Un-beer-lievable Breweries in Southeast Montana
2021-05-06 16:20:58
Calling all beer enthusiasts! If you haven't tried the brews in Southeast Montana yet – you're missing out. Wheats, ales, IPAs, stouts and more are brewed right here and are sure to leave an impression as big as the skies.
This isn't the first (or probably the last) time we'll be talking about the beers out here. Catch up on our Craft Beer Craze blog from a couple years ago – and then read on to see some what some of the newer locations are brewing up.
*Disclaimer: As required by common sense and courtesy, we strongly urge you to secure a designated driver before departing on a "tasting tour" of Southeast Montana.
One of the newest additions to Southeast Montana's brewery tasting tour, Otium Brewing opened in the spring of 2021. After home brewing and sharing the beers with their family and friends over the years, owners Dustin and Hannah Strong realized a decade-long dream when opening the space in downtown Miles City.
"We hope that Otium Brewing provides an atmosphere similar to those neighborhood beer and food gatherings we initiated," Dustin said. "Breweries are generally family-friendly, which was important to us."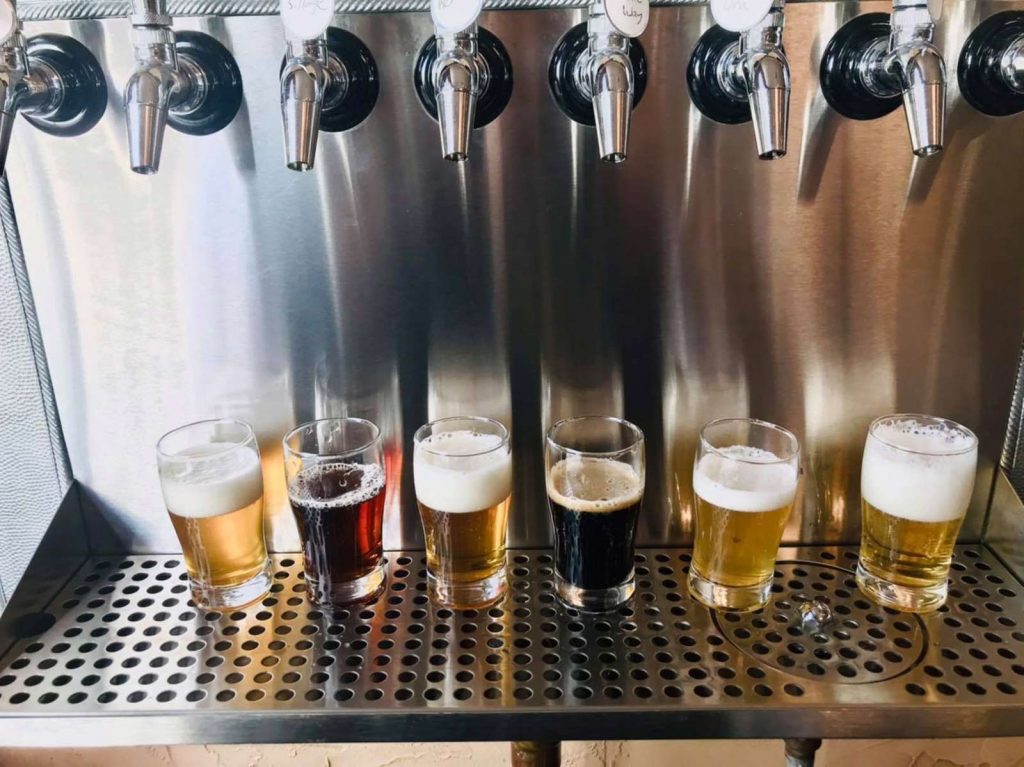 Stop by with the whole gang and try one of the year-round staples: the Labora Honey Cream Ale, Ora American Stout and Otium Irish Red Ale. Or, opt for something different with one of four rotating beers. And the Strongs didn't forget about the rest of the family. Kombucha from Dean's Zesty Buch as well as homemade sodas crafted with Montana syrups are also available.
Make sure to pull up a seat at the bar and ask about the ingredients for the beers when you stop in – they'll be happy to tell you about how 90 percent of the products come right from Montana.
Otium isn't the only place to drink up those homemade adult beverages in Miles City. Make your way over to Tilt Wurks Brewhouse to check out the pinball-themed gastropub. Read all about it here.
Billings
You may want to plan out a couple days in Billings for your Southeast Montana brew tour. While downtown boasts its own walkable brewery trail – six breweries, two distilleries and a cider house (read about that here) – the west end of town is becoming its own little beer mecca.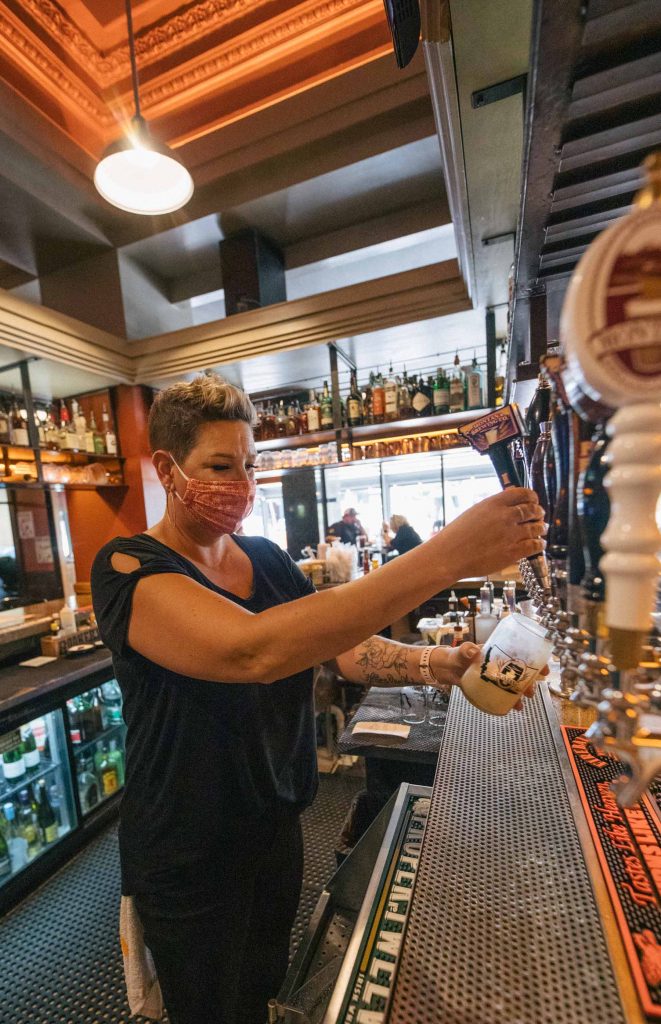 Canyon Creek Brewing opened in 2013 and boasts beers like the One Night Stand Blonde Ale and the C Squared IPA. Built from the ground up, this brewery and tap room features two bars, two patios and enough room for your next big party. Ron Kalvig started his journey to brewing like a lot of others – at home. After nearly 15 years, he was able to open the first brewery on Billings' west end.
Come in any day of the week to find your favorite new beer. Bonus: if you make it in between 2 and 4 p.m. you'll be able to catch the happy hour specials. Stay into the evening hours for a meal from one of the local food trucks that stop by.
Venture down the road for your next stop. By All Means Brew Lab is one of Billings' newest breweries – and features way more than brewed concoctions. While you may come for the beer – you'll end up staying for the atmosphere and food. Order some of the food – inspired by Modern Latin cuisine – and sit outside by the fire to enjoy one of Montana's perfect summer nights.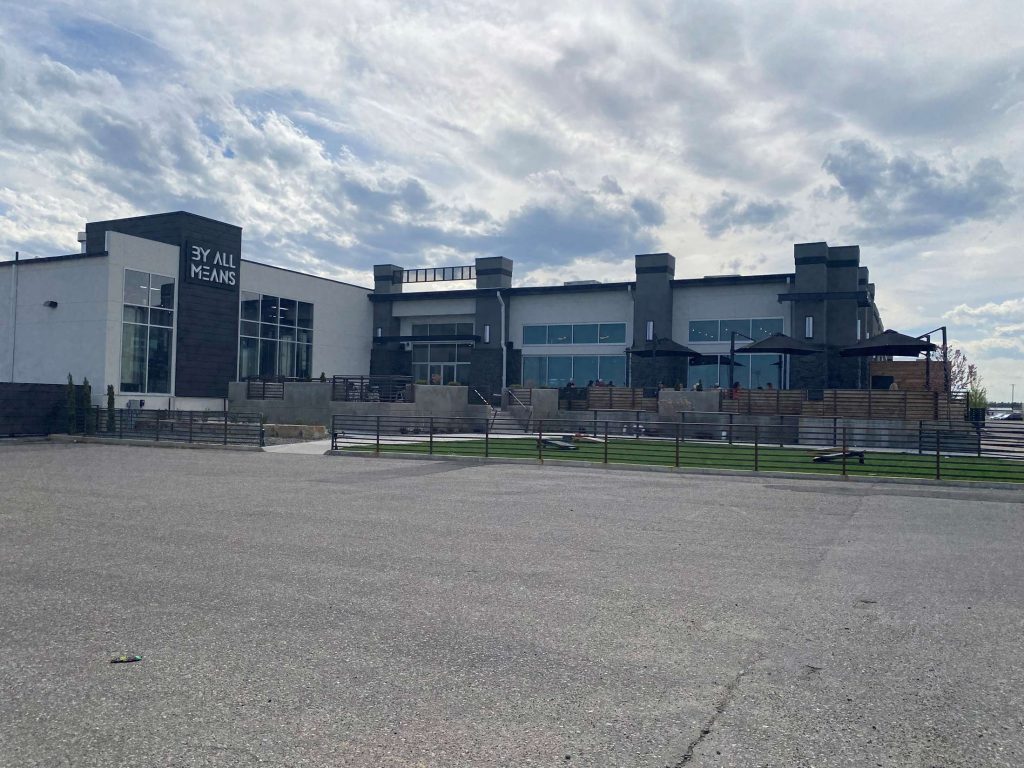 Living up to their name as a brew lab – they specialize in the "mad scientist" approach of creating and delivering the most exceptional brews. The "laboratory" in the back doubles as an on-site canning, bottling and packaging center – so you can take some refreshments home because you just can't get enough. Using some of the most state-of-the-art technology: centrifuges and foeders (think large wooden barrels like the ones used to store wine) you're sure to fall in love with the Zymopunk, Bam Breeze, Exklusiv or one of the other creations.
After you've spent the day exploring and shopping in Billings, stop into Freefall Brewery in the Rimrock Mall for a couple cold beverages to unwind. Open seven days a week, everyone will be able to find a drink to fit their taste buds. From Mexican and Vienna Lagers to several seltzers on tap, Freefall offers up brews with real Montana craft malt to make sure you're getting the best the state has to offer.
Host your next party here – an arcade room will keep the kids busy for hours, while Audrey's Pizza Restaurant serves up gourmet pizza, sandwiches, salads and more to keep your appetite satisfied.
While we know you went back and read our first beer blog, we can't pass up an opportunity to brag a little bit about the other awesome breweries out here.
We could consider this brewery as "the one that started it all." Established in 2008, well ahead of the craft beer craze in Montana, Beaver Creek Brewery has evolved into a self-proclaimed "regional destination for connoisseurs of beer, music and good times." Stop by for a pint, homemade specialties and some authentic music.
Just down the road from Wibaux, Cross Country Brewing opened in March of 2017. A two-generation family operation, this small tap room claims a renovated oil service building on Glendive's south side as home. The Cross family named the brewery with their surname, and members each bring his or her own talent set to the business, including "Mom" or Lonnie as the tap room manager.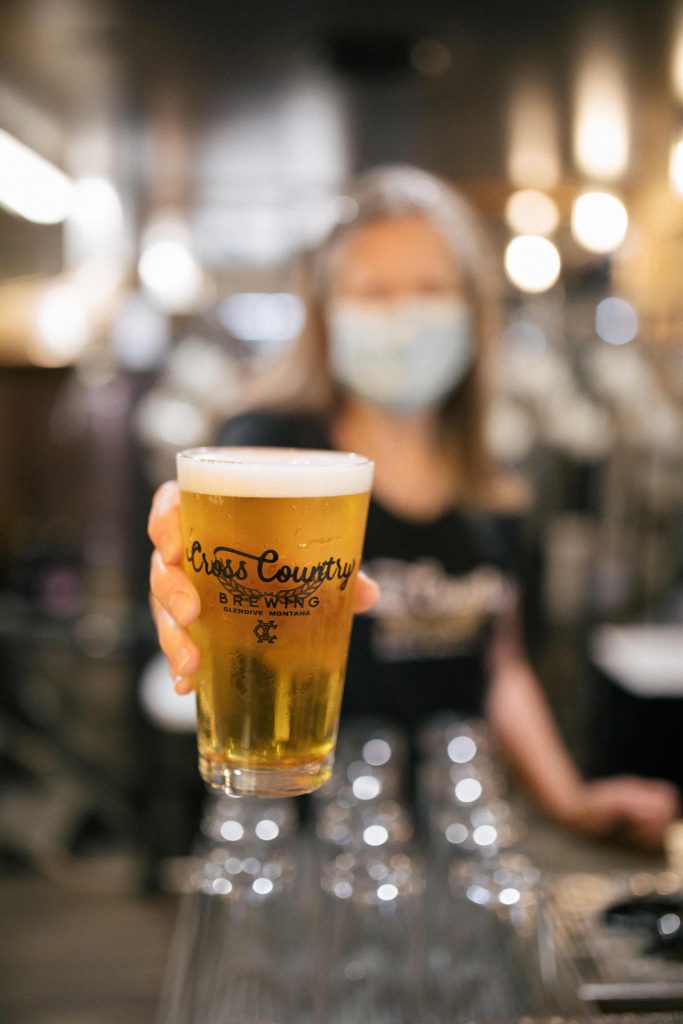 Here's a toast to another local brew. High Plains Brewing walks their talk when it comes to family-friendly atmosphere and small-town vibe. The original brews – High Plains Honey Porter, Haywire Honey Wheat and Boney Dog IPA—remain popular, patrons enjoy seasonal variations and, most recently, some barrel-aged brews. In the summer months, the shaded patio expands the serving area with occasional live music.