Top Scenic Drives for Fall in Southeast Montana
2021-10-05 18:00:20
Fall in Southeast Montana might just surprise you. While traditional leaf-peepers think of forests and mountains, we know the prairies, buttes and breaks of Southeast Montana bring their own autumn beauty. We look to river valleys for the golden splendor of massive cottonwoods and watch as the leaves on prairie grasses change to a rich mauve. If you want to experience the region's colorful transformation come fall, just hop in the car for a scenic drive.
We suggest daybreak and dusk as ideal times for prairie colors, especially as they pertain to photography and wildlife watching. Try these regional routes for the perfect scenic drive full of fall surprises.
Prairie Tour
Cut across the rolling prairies on Montana Highway 7, cruising from Wibaux to Baker to Ekalaka. Stop at Medicine Rocks State Park for a closer look at the pictographs and petroglyphs from centuries past. If you are a craft beer aficionado (and have a designated driver) check out Beaver Creek Brewery in Wibaux. As is true in all small towns, the locals add the flavor, and we have it on authority that the grilled ham-and-cheese at the Wagon Wheel Café in Ekalaka is well worth the pit stop.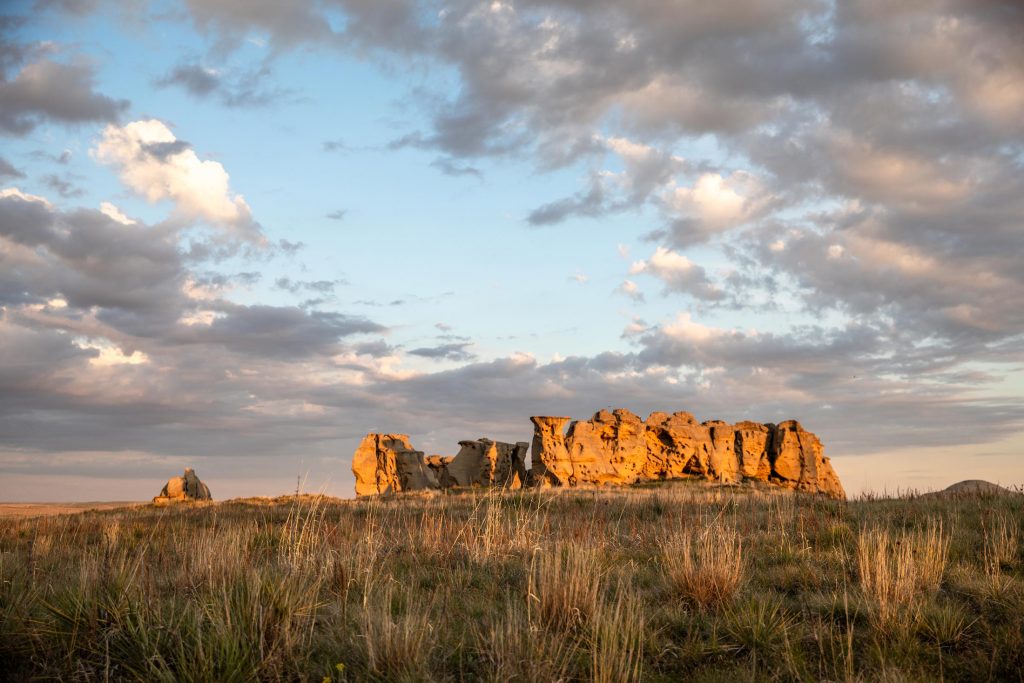 Prairie Tour II
The Warrior Trail Highway, or what is locally known as the "212 Cut-Off," crosses both the Crow and Northern Cheyenne Indian reservations and exemplifies the pure beauty of Southeast Montana's prairies. Hear tales of tribal war chiefs, see historic battlefields and explore ancient Indigenous art. Stop by Wellknown Buffalo Coffee House in Garryowen for a road trip refreshment.
Just east of Ashland, the Custer Gallatin National Forest astounds visitors with more jagged terrain dotted with pines that contrast the terra-cotta-colored gravel roads, bisecting the undulating prairies. For more details on recreation areas, see the Ashland Ranger District map.
Musselshell River Tour
Follow Montana Highway 12 from Ryegate to Roundup to Ingomar as you parallel the Musselshell River. Stop at the RiverWalk in Roundup to stretch your legs and take in the scenery around the river, or even catch their Fall Festival if you come at the right time. If you are looking for a Montana souvenir, stop by Bull Mountain Trading Company for a keepsake to remember your journey.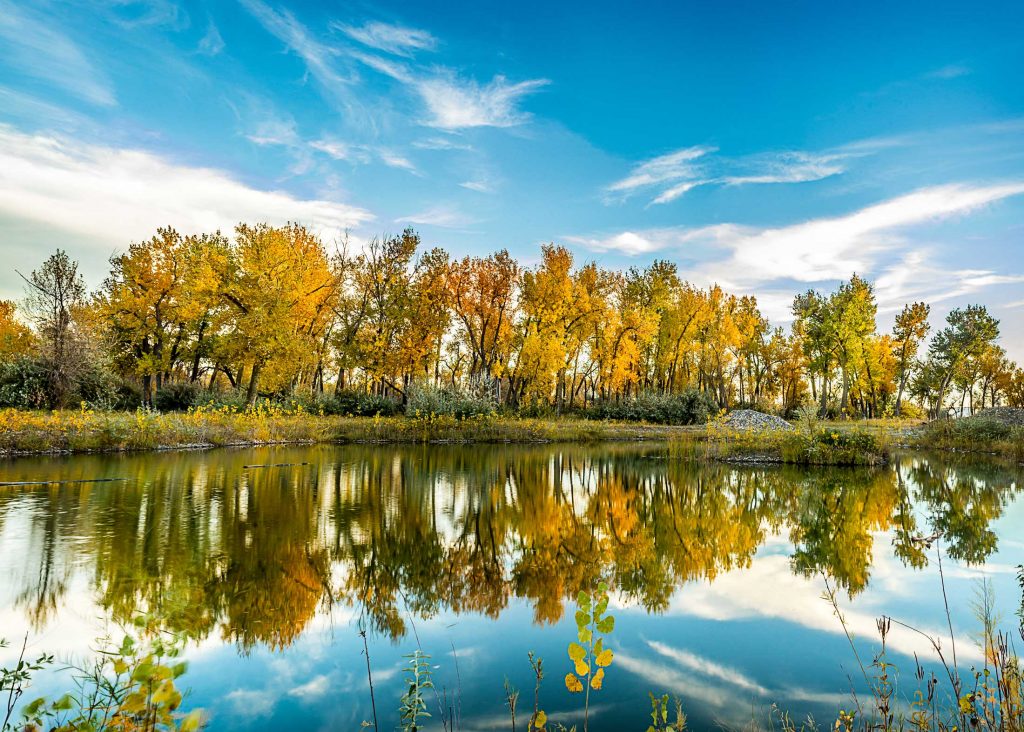 Yellowstone River Middle Tour
Drive along Montana Old Highway 10, which skirts between the Yellowstone River and Interstate 90 and features golden cottonwood colors and several stops along the Trail to the Little Bighorn, a series of 19 roadside markers that highlight the U.S. 7th Cavalry's activities leading up to and immediately following the Battle of the Little Bighorn.
Traveling west from Forsyth, take Old Highway 10, which becomes Montana Highway 311. Continue through Hysham (stop for a selfie with the statues at the Yucca Theater) on 311, and veer right when 311 turns to become Myers Road/Highway 311. Cross the Yellowstone River on Myers Bridge and stop on the south side for a brief walkabout at Howrey Island Recreation Area. Continue on Myers Road, which becomes Pease Bottom Road to Musselshell Trail Road, south to Interstate 90 in Custer.
From Custer, continue along the Custer Frontage Road and follow signs to Pompeys Pillar National Monument.
Road-Trip Tip: Plan to spend at least an hour here. The interpretive center "frames" the pillar where Captain William Clark carved his name in 1806—some of the only remaining in-the-field evidence of Lewis and Clark's incredible journey. Climb the 202 steps to the top of the pillar for an uninhibited 360-degree view of fall splendor along the Yellowstone River.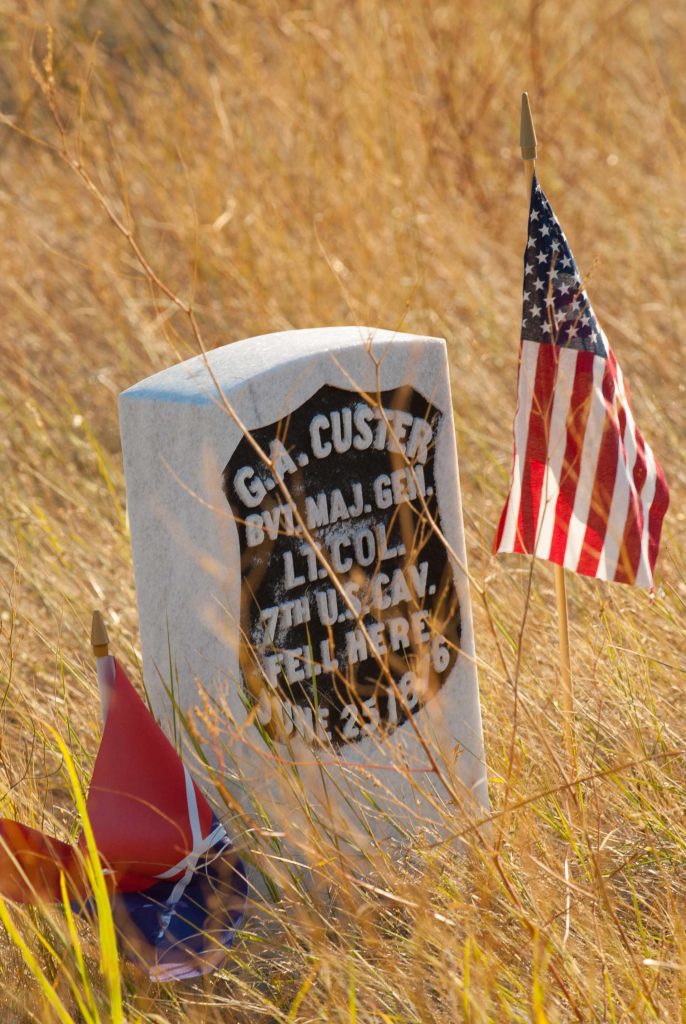 Battlefield Tour
This quick, 5-mile ridgetop drive from Last Stand Hill to the Reno-Benteen Battlefield at the Little Bighorn Battlefield National Monument reveals more rolling, fall-flaming prairies with the Wolf and Bighorn Mountain ranges in the distance. For further exploration, continue east on Montana Highway 212 and turn south on 314 to the Rosebud Battlefield State Park, where the "Girl Who Saved Her Brother" battle was fought. If you need a bite to eat, wrap your trip up with a tasty bison burger from Custer Battlefield Trading Post and Café.