Summer means outdoor fun and in Montana, that likely hiking and camping adventures. While the mountains in the western part of the state are certainly majestic and full of their own beauty, we challenge you to try something different: Explore the buttes, badlands and bridges out here in Southeast Montana.
From the rustic and remote Calypso Trail in the Terry Badlands to the unexpected national forests, Southeast Montana offers a plethora of hiking and camping options for authentic explorers.
Makoshika State Park
If you have not yet been to Montana's largest state park, what are you waiting for? Located adjacent to the town of Glendive, along Interstate 94, Makoshika is easy to find. And, with nearly 11,000 acres, you have plenty of space and opportunity for discovery. Hike the popular Cap Rock Trail to walk across a natural bridge. Or, request a backcountry permit for the trail less traveled. Interested in a truly unique camping experience? We recommend booking early or during the week to reserve the teepee site (#15). Plus, rumor has it that a sheepherder's wagon may be a new lodging option this year. 
Dino-loving families will enjoy the Saturday morning paleo adventures for an insider's look at an excavation site and the fossil lab where specimens are cleaned and curated. Makoshika rangers also offer periodic programs throughout the summer. No matter what you do, be sure to take in a Makoshika sunrise or sunset – that alone is worth the trip.
Insider's Tip: The park's name means "bad land or bad earth" and is pronounced Ma'ko'-shik-ka. Reserve campsites here.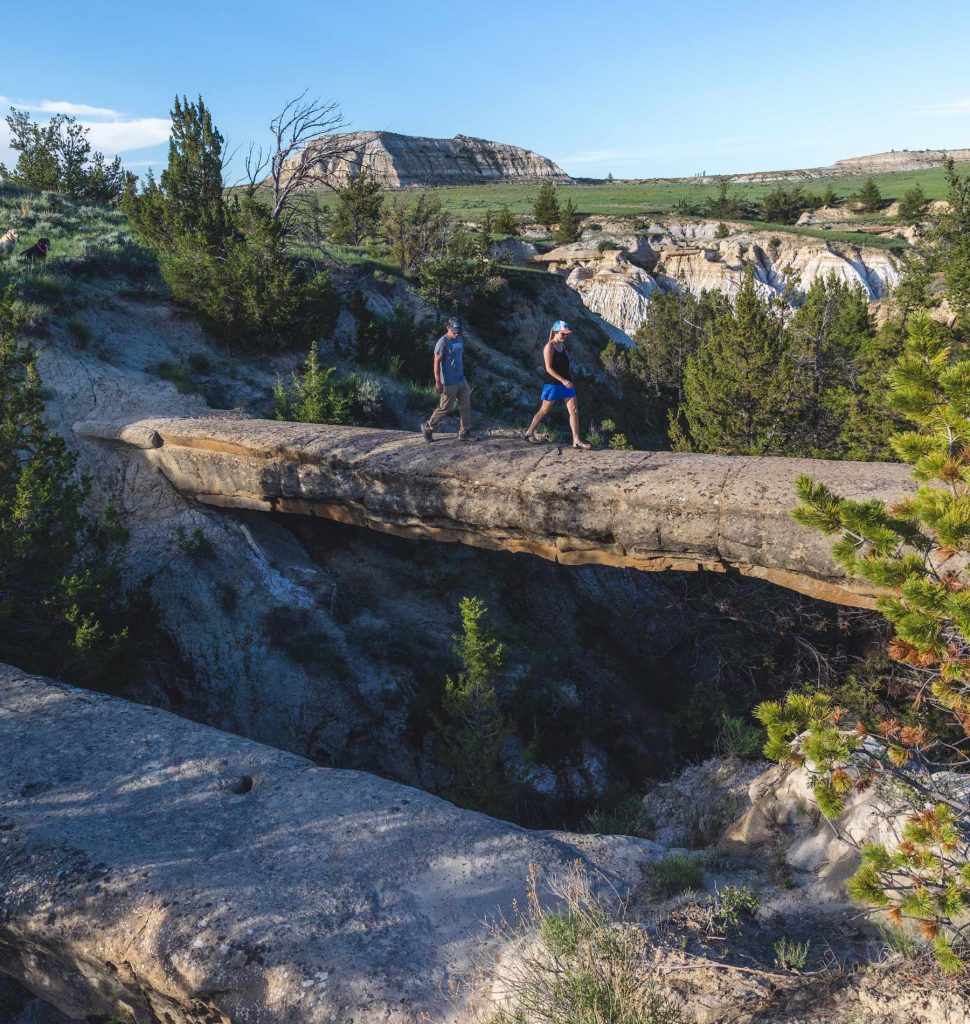 Medicine Rocks State Park
Located on the far eastern edge of Montana between Baker and Ekalaka, this park is small but mighty. Recently designated as an International Dark-Sky Sanctuary, Medicine Rocks provides the darkest of the dark night sky viewing plus monthly programming to help you learn more about what is happening over our heads. Camping is first come, first served and we know that once you set your eyes on this place, you will fall in love with the distinctive Swiss-cheese-like rock formations that give this park its name. The Dalton Trail is just under a mile – walk it at sunrise for a mystical experience.
Insider's Tip: Mid-week camping is more readily available. Be sure to tap the pump at the park's entrance for some cool, refreshing water.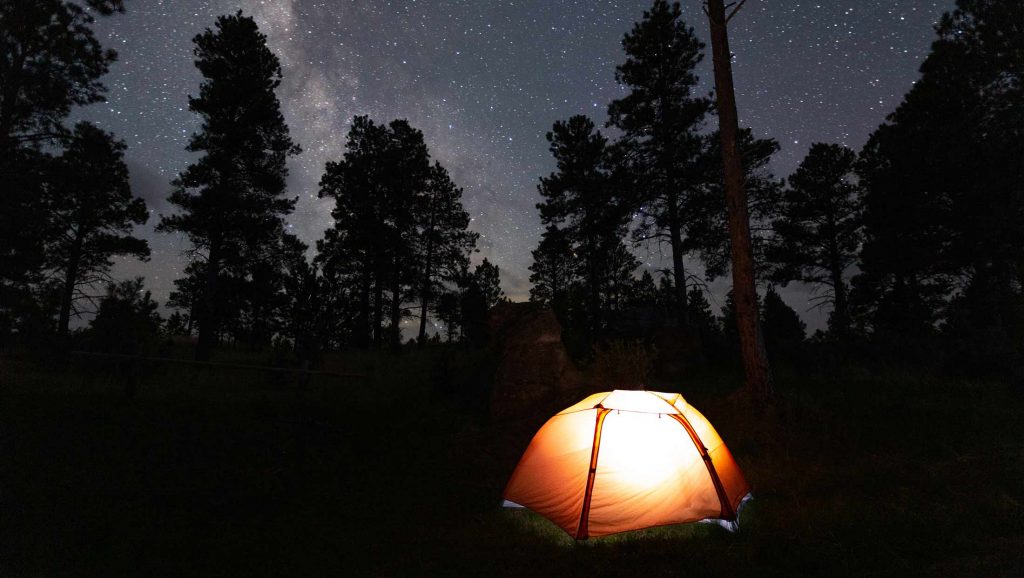 Custer Gallatin National Forest
While we think of national forests, we naturally think of the Beartooth Mountains and Red Lodge area. However, there's more to the story. The Ashland and Sioux Ranger Districts offer camping, hiking, horseback riding and more across distinctive rolling grasslands interrupted by steep rock outcropping, dotted with Ponderosa pines. Try Red Shale or Ekalaka Park Campgrounds, and don't miss Poker Jim Butte for a stunning view. We suggest early summer for the wildflowers, birding and mild weather.
Insider's Tip: To learn the ins-and-outs of National Forest Service camping, visit Ashland Ranger District or Sioux Ranger District. Alternatively, consider staying at a NFS cabin or lookout tower (outside of fire season, that is).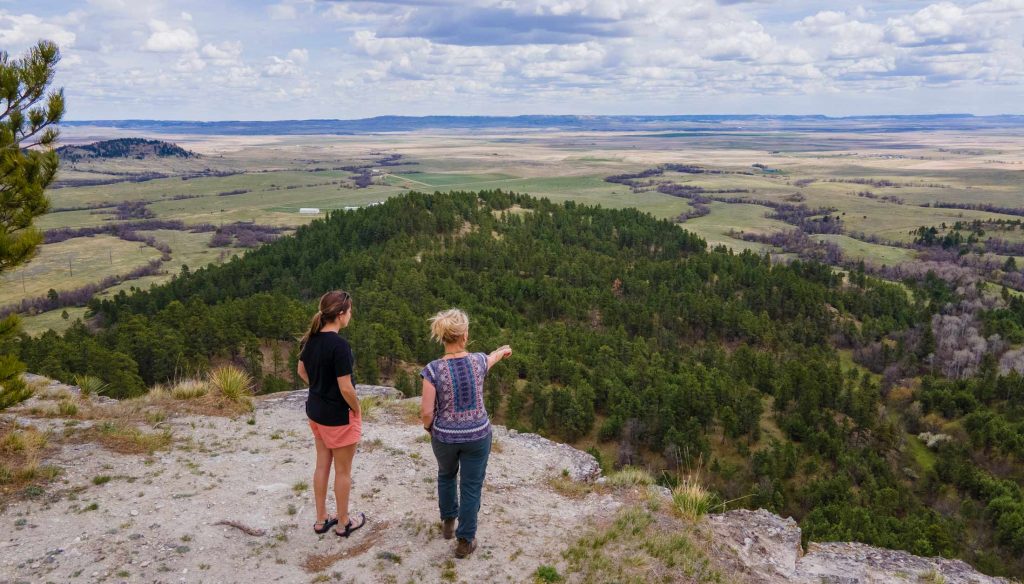 Bighorn Canyon National Recreation Area
If you have not yet ventured to Bighorn Canyon (North Unit) near Fort Smith, get on that – STAT. Located within the Crow Reservation (thus, land "up top" is private, not public) the 71-mile-long Bighorn Lake straddles the Montana-Wyoming border and lies below cliffs towering 1,000 feet in the air. Rent a pontoon during the summer months from Ok-a-Beh Marina for the day to explore the myriad mini-canyons in this amazingly immense gorge. For camping, check out the Afterbay Campground at Fort Smith or BYOB (bring your own boat) for boat-in-only camping. We suggest Black Canyon for an easy paddle and proximity to floating latrines. Be sure to stop at the Visitor's Information Center for a view of Yellowtail Dam, which created the lake and downstream trout fishery, in the late 60s.
Insider's Tip: Stay an extra day or two and book a trip to flyfish Bighorn Lake or Bighorn River, below the dam. Known as a blue-ribbon trout stream, you'll find browns and rainbows with one of the expert outfitters in Fort Smith area.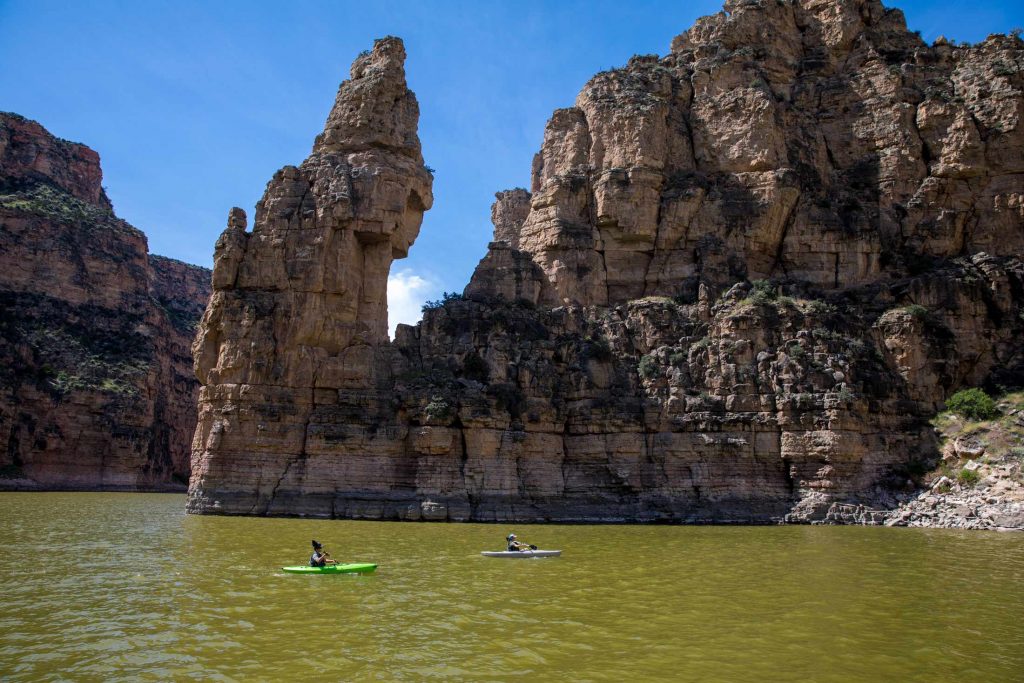 Terry Badlands
Designated as a Wilderness Study Area (WSA) and managed by the Bureau of Land Management (BLM), the Terry Badlands are relatively untouched by modern civilization. For an overview of badlands, try the Terry Scenic Overview via the Scenic View Road. To get down and dirty on the opposite side of the WSA, traverse the Calypso Trail (dry roads and a high-clearance 4WD are a must) to the Natural Bridges Trailhead. This hike will take you over – you guessed it – natural bridges. Plus, you'll see buttes, grasslands, coulees and hoodoos in the 3.5 mile loop. Camping is primitive, independent and frequently, surreal. As with our other recommendations in Southeast Montana, we suggest taking in a sunrise, sunset and wide-open night skies out here.
Insider's Tip: Biking into the Badlands via the Calypso Trail will increase your endurance and your experience. Please note, wheeled-traffic (including bikes) are not allowed "off-trail." A simple rule of thumb: Two tracks for wheels; single track for feet.
No matter if you are out for a short weekend or a week-long excursion, we encourage you to get up-close-and-personal with the roads less traveled in Southeast Montana. Then stop in the closest small town to share your experience with the locals – you may even learn a few of their secrets.