Southeast Montana Burger Trail
2022-04-06 18:48:03
There's no beef about it, Southeast Montana is home to some of the best burgers you'll ever try. On every route, in every small town, you can taste true Montana flavor from inside our region's eateries. We've personally sampled 24 burgers of local favorites and can attest the Southeast Montana Burger Trail is a foodie experience you don't want to miss.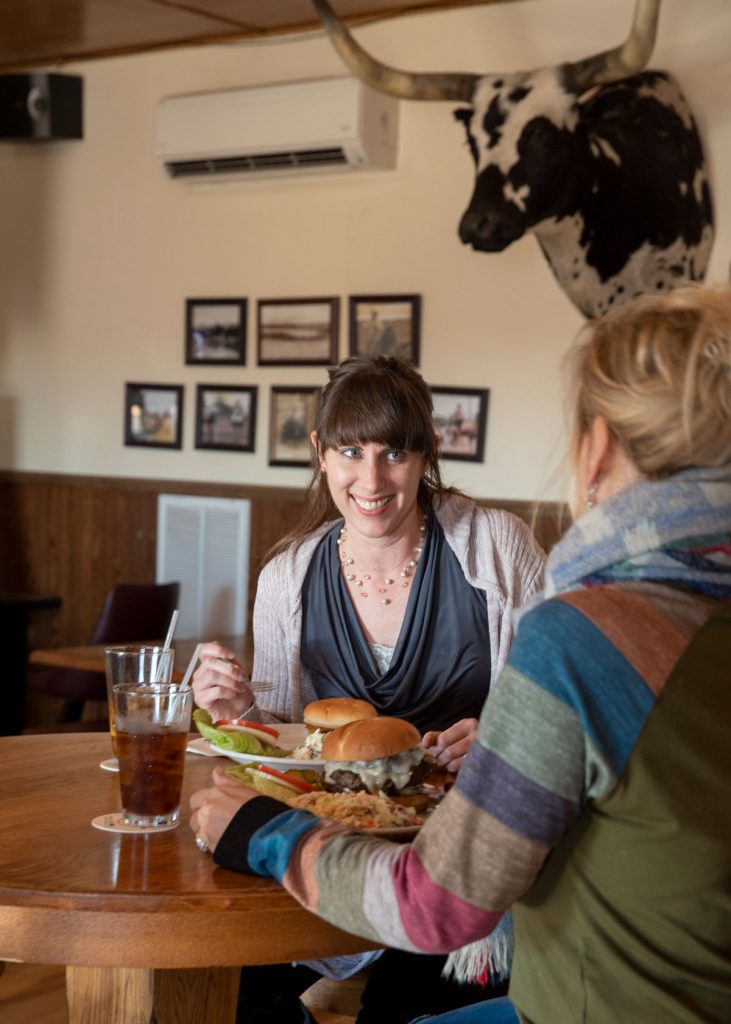 And you might be asking yourself, why burgers? Whether you've come here for the hiking, boating, dinosaur bones or just a road trip, there's no better reward at the end of a long day than to devour a large, juicy burger and a plate of fries. It's the Montana way. Just ask the locals.
You'll also find that burgers take center stage at these friendly small establishments and for good reason. The region is home to fresh, often locally-sourced beef and wheat buns thanks to Montana's strong agricultural industry. No matter your route, you won't have to travel far for your perfect burger. What makes these burger joints standout is their unique craftsmanship and local humor, all smothered with genuine culinary ingenuity.
Insider Tip: Many of these establishments have a "shake-a-day" pot where if you contribute a few bucks, you can take your turn of the day to shake the dice for a chance to win the pot. It's a classic small-town game you have to try at least once.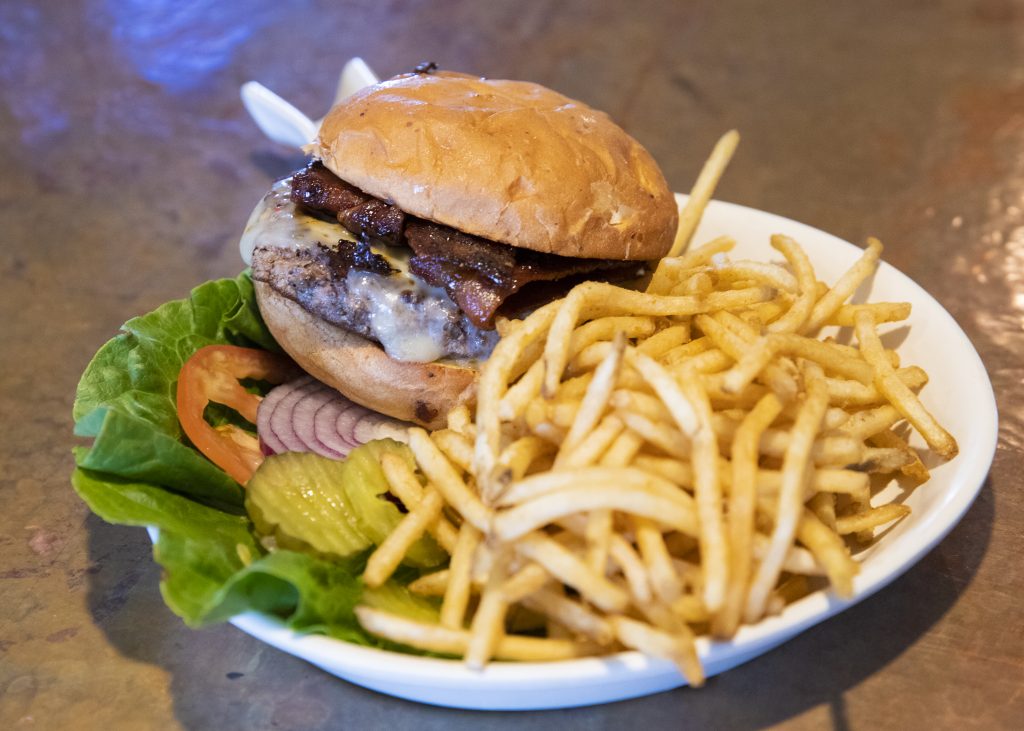 If you're looking for a burger that brings the heat, you'll love the Broken Knuckle from The Joseph Café in Forsyth. It's 6 oz. patty is sourced locally from Cowboy Meats, slathered with jalapeño cream cheese, crisp bacon and pepper jack cheese served on a Wheat Montana pretzel bun so divine you'll wonder why every burger isn't served on a pretzel bun. Or, if you're a sriracha fan try the Siracha Bacon Pepperjack Burger from Heiser's Bar in Baker. It'll knock your sassy socks off with its homemade sauce.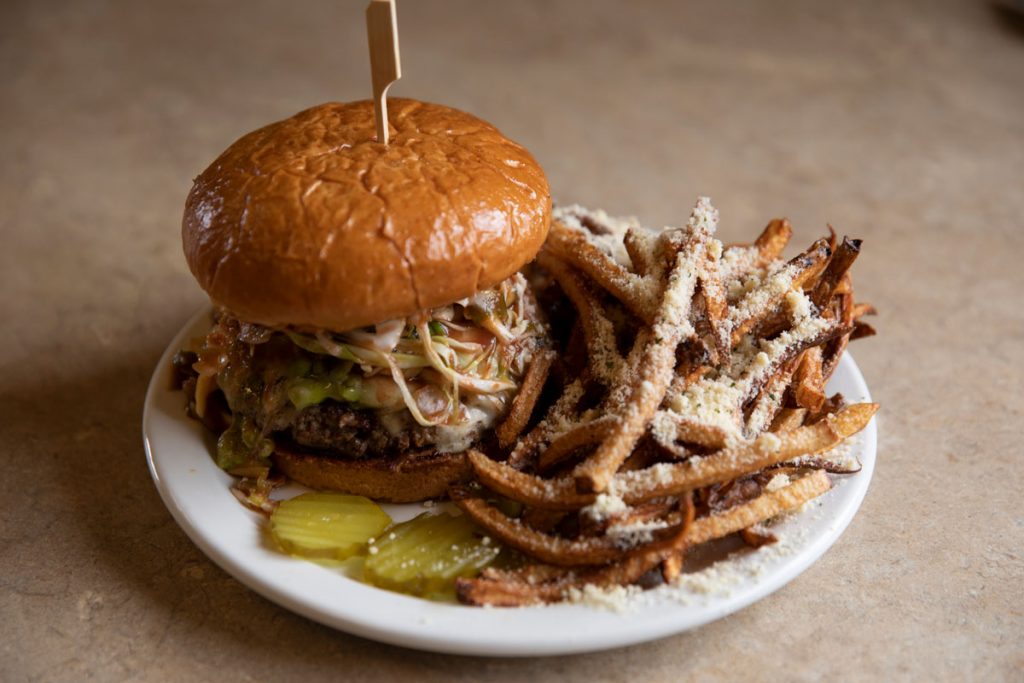 Looking for creative and unique burgers? Head to Homestead Inn in Broadview for the Mexi Burger. It looks nothing like a burger, but we promise it'll be one of the best things you'll try. It is served on open faced buns with a ¼ lb. patty, buried in a homemade green chili (a secret recipe of the owner), sprinkled with tomato and cheese. This is not finger food, folks!
Another unique twist on a burger comes from June's Bungalow in Colstrip where they create the Mango Burger. This massive burger has a healthy helping of homemade mango salsa, guacamole and havarti cheese. These unique flavors pair together well though expect juices oozing out on all sides as you take your first bite. While you're there ask for June's special fizzy tea, it's a hit with regional sports teams.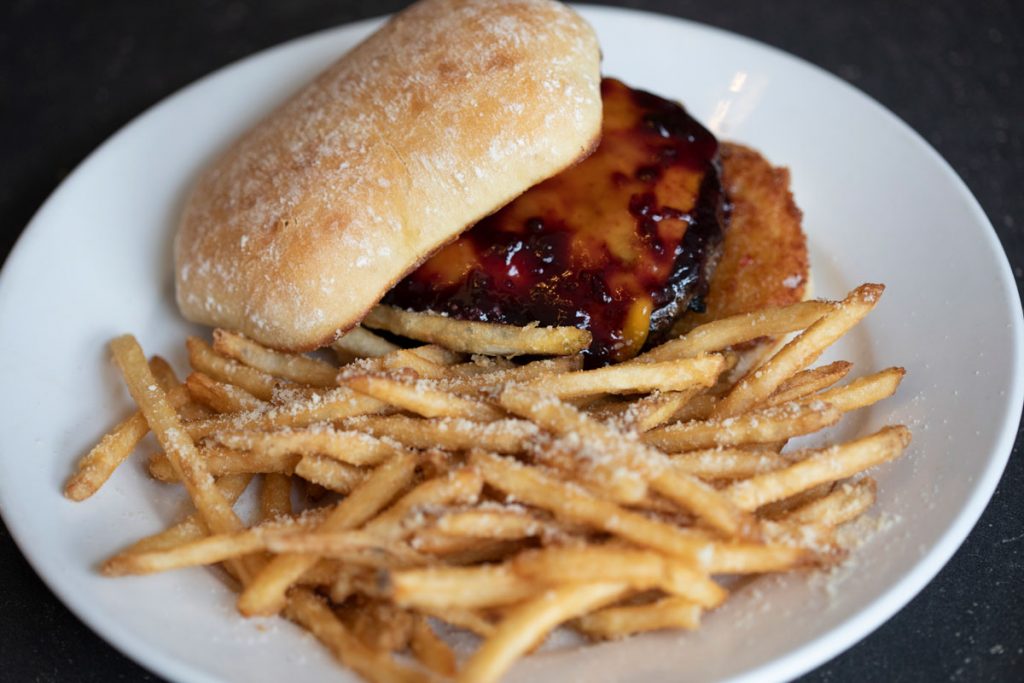 We'd be remiss not to mention our very own World Food Championship burgers. The ZooM Burger from Stacked in downtown Billings is sure to leave you with the lingering flavor of perfection. Its patty is smothered with blackberry roasted jalapeño sauce, espresso rub, goat cheese, fried green tomatoes, cheddar cheese and a drizzle of honey. If this isn't one of the best burgers you will ever eat in your life, the truffle fries may just steal the show. The other championed burger is the I'm Your Huckleberry Burger from The Burger Dive in Billings. It has a tremendous ⅓ lb. patty, covered with a cascading layer of homemade huckleberry-hatch chile barbeque sauce, bacon, creamy goat cheese, roasted red pepper mayo and fresh arugula. All that goodness is presented on a soft, locally sourced Grains of Montana bun.
Insider Tip: While you are in Billings, be sure to check out the breweries along Montana's only Walkable Brew Trail. Pair your burgers with any of our craft beers brewed throughout the region, check out these locations on our blog.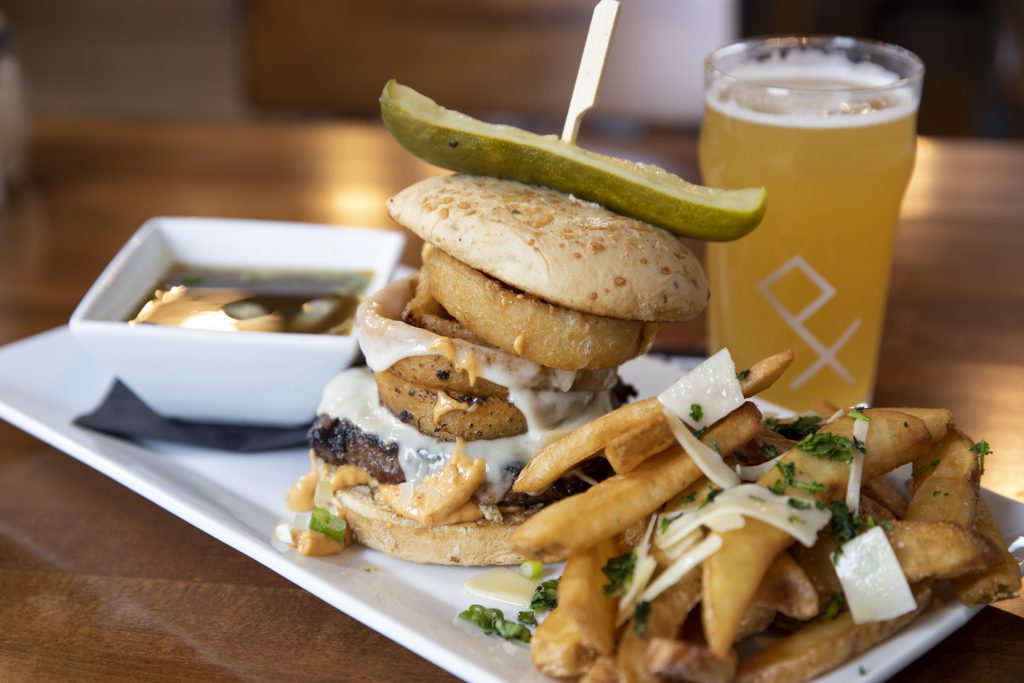 For those with more refined appetites, we'd recommend the Fried Green Tomato & Bacon Burger from Roy Rodgers Bar in Terry. It's your classic cowboy hangout, so you'd expect a likewise rough and tumble burger. Instead, they plate up an impeccable burger that is eloquently drizzled with balsamic glaze. The attention to detail is obvious in this dish. Another excellent choice is the French Onion Burger from Diamond X Beer Co. A ½ lb. Certified Angus Beef patty heaped with onion rings, caramelized onion, garlic aioli, Swiss and havarti cheeses, this enormous sandwich is plated with an au jus dipping bowl and thick-cut parmesan fries. We promise you'll leave here with the satisfying feeling of overindulgence.
Get out here to try one of our burgers and let these friendly establishments make you fall more in love with Montana, bite after bite. View the complete Southeast Montana Burger Trail listings on our website or download the map. As you eat your way across Southeast Montana, share your photos with us on social using #SEMTBurgerTrail. So, which burger will you try first?