Honoring History in Southeast Montana
2020-11-06 06:33:27
Out here in Southeast Montana, we reflect on history of all kinds. Museums across the region showcase artifacts telling stories that span millions of years – agates, dinosaur fossils, covered wagons, antique guns and more. And there is one thing you're likely to find at almost every museum you visit – a display honoring military service. From old military uniforms to medals, guns, plaques and more – here in Southeast Montana we make sure to pause and honor those who've made sacrifices to protect our country, our lives and our freedom.
But it's not just museums where you'll find military history honored. Cemeteries, VFWs, American Legions, national monuments and battlefields are scattered across the landscape in Southeast Montana to give those passing through a chance to reflect. Out here we make sure to honor those who have served in the different branches of the U.S. Armed Services.
Not sure where to begin? The Southeast Montana History Map lists more than 30 locations across the region. Read on to learn more about the places that honor the past.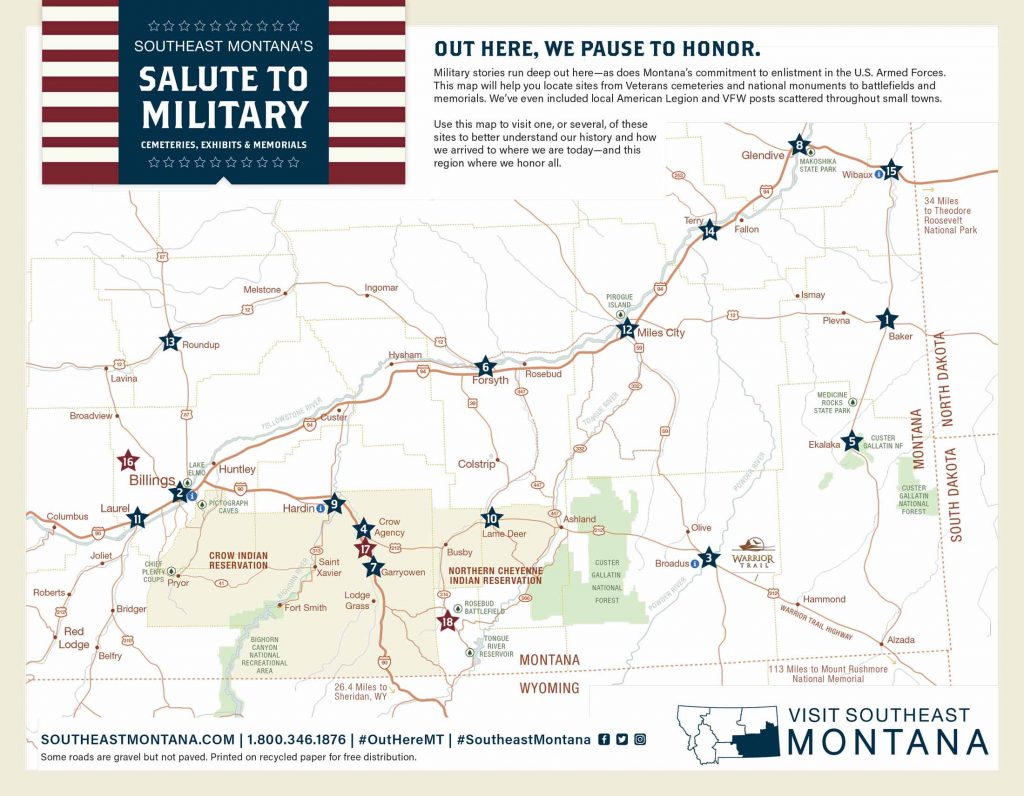 Battlefields
Several battles were fought in Southeast Montana as Plains Indians tribes including the Nez Perce, Lakota, Arapahoe and Cheyenne worked to protect their way of life. The Little Bighorn Battlefield National Monument remembers the events of June 25-26, 1876 as Lt. Col. George Custer and the U.S. Army's 7th Calvary took on Chief Sitting Bull and several thousand warriors. Take in the two battlefields, wander through Custer National Cemetery and learn from rangers about the strategies of the two-day fight. Nearby, Rosebud Battlefield State Park tells the story of the Battle of Rosebud, or "Where the Girl Saved Her Brother," which took place on June 17, 1876 – just a week before the Battle of Little Bighorn. It was here that Brigadier General George Crook and his men were defeated and therefore weren't able to support Lt. Col. Custer a week later.
Another battlefield – the Canyon Creek Battlefield National Monument – sits eight miles north of Laurel. Visit this nearly untouched area to learn about the second-to-last battle of the Nez Perce Flight of 1877. It was here that the Nez Perce were able to stop pursuing 7th Calvary troops in September 1877. Explore this site from the pullout on Buffalo Trail Road, as the battlefield is on both private and public land, and you are asked to respect land owners' rights and not walk through the area. A pavilion, stone monument and bronze plaque are part of the pullout and provide information on the battle.
Museums
With so much history in the lands of Southeast Montana, most counties proudly display the tales of their past in a county museum. Stop in at the first county museum in Montana, the Carter County Museum in Ekalaka for a look at their military exhibit in the Veteran's Room. Here you will see uniforms, accoutrements and memorabilia from the Indian Wars in the 1800s to the Desert Storm. Up the road in Baker, the O'Fallon Historical Museum boasts military displays from both World War I and II in the former county jail. Keep heading north toward Wibaux and visit the old office building of Pierre Wibaux, who the town was named after, which is now the Pierre Wibaux Museum for a military history lesson from Wibaux County.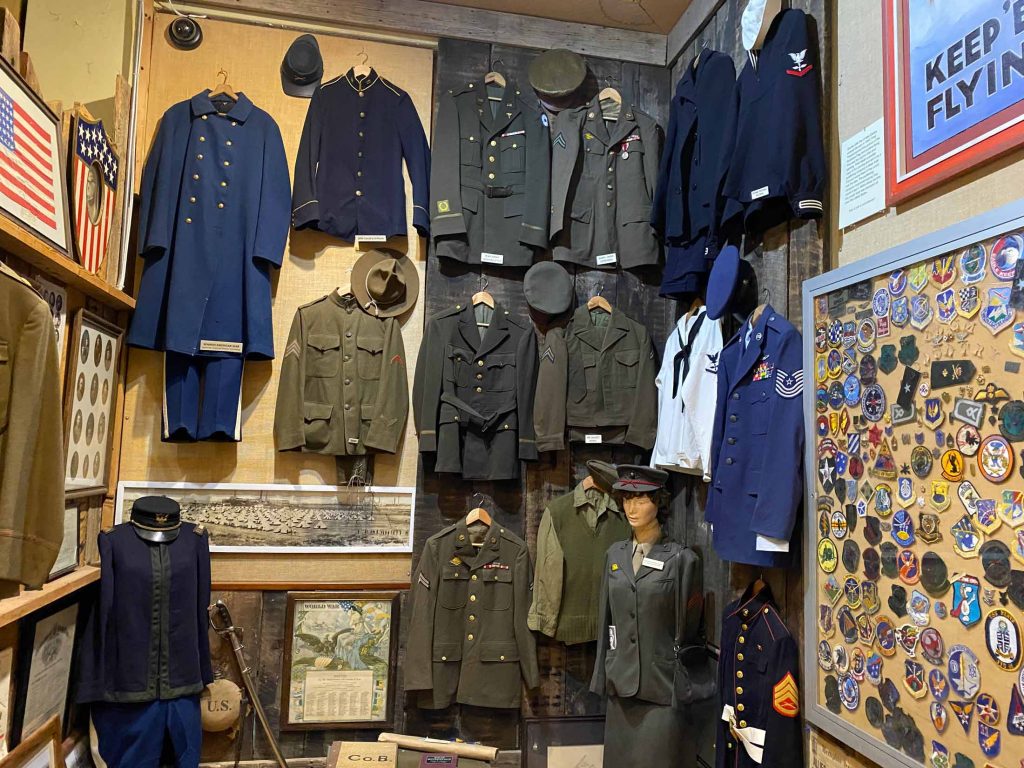 The Big Horn County Museum includes a significant display of old military artifacts. While visiting, check out a diorama of the original Ft. Custer and many artifacts from that fort.
Several other museums – including the Powder River Historical Museum, Rosebud County Pioneer Museum, and Musselshell Valley Historical Museum also have military displays. Visit their websites for more information.
Cemeteries
Visit Garryowen to see the Tomb of the Unknown Soldier. The remains of a trooper were found in 1926 and are presumed to be one of the first 7th Cavalry men killed in the beginning phase of the Battle of the Little Bighorn. High water the next spring apparently caused the soldier's body to be buried, and it was found 50 years later when a road crew building US Highway 87 uncovered it. A Peace Monument and bronze sculptures of Sitting Bull and Lt. Col. Custer sit on either side of the tomb.
Several other communities have memorials at cemeteries in the county including the Mountview Cemetery in Billings, Rosebud County Cemetery in Forsyth, Lame Deer Cemetery in Lame Deer, Yellowstone National Cemetery in Laurel and the Eastern Montana State Veterans Cemetery in Miles City.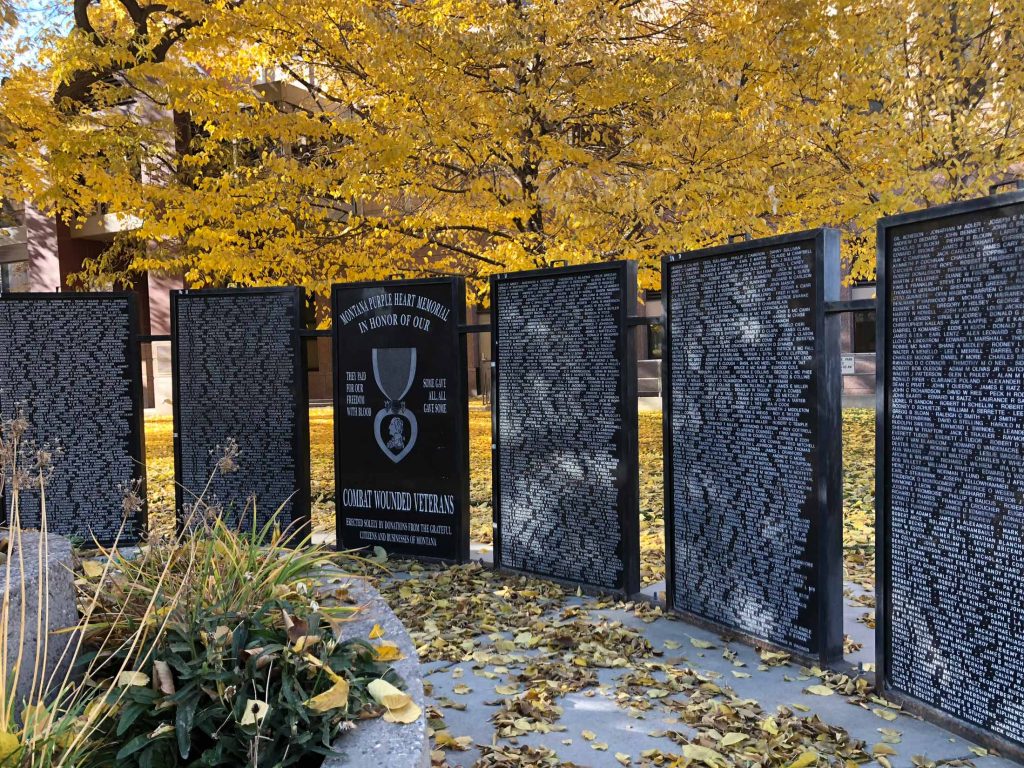 ….Everywhere Else
Stop at the Yellowstone County Courthouse in Billings and outside on the lawn you will find a Purple Heart Memorial and Veterans Memorial. The Purple Heart Memorial was dedicated in 2001 and lists all the combat wounded veterans from Montana. In the 19 years since its original dedication, more panels with hundreds of more names have been added, and the memorial was rededicated on Veterans Day in 2015.
In Billings you will also find displays at the Yellowstone Kelly Interpretive Site at Swords Rimrock Park and the American Pride Memorial at Veterans Park.
With a full day of traveling and sight-seeing complete, stop into one of the American Legion or VFW posts scattered throughout the region. Here you will likely find locals who are happy to swap stories over a cold beverage as they recount tales of the past.
Some of these places, including the museums, are only open seasonally. We encourage you to call ahead to verify if they'll be open when you are visiting.
Traveler Alert: Please remember to check ahead of time as services may not always be open or may change, stay home if you're sick and follow local guidelines and protocols. For more information, visit SafeOutHereMT.com.