If you're itching to experience small-town cowboy culture, this is the loop for you. From cattle drives to sheep herders, Southeast Montana has it all.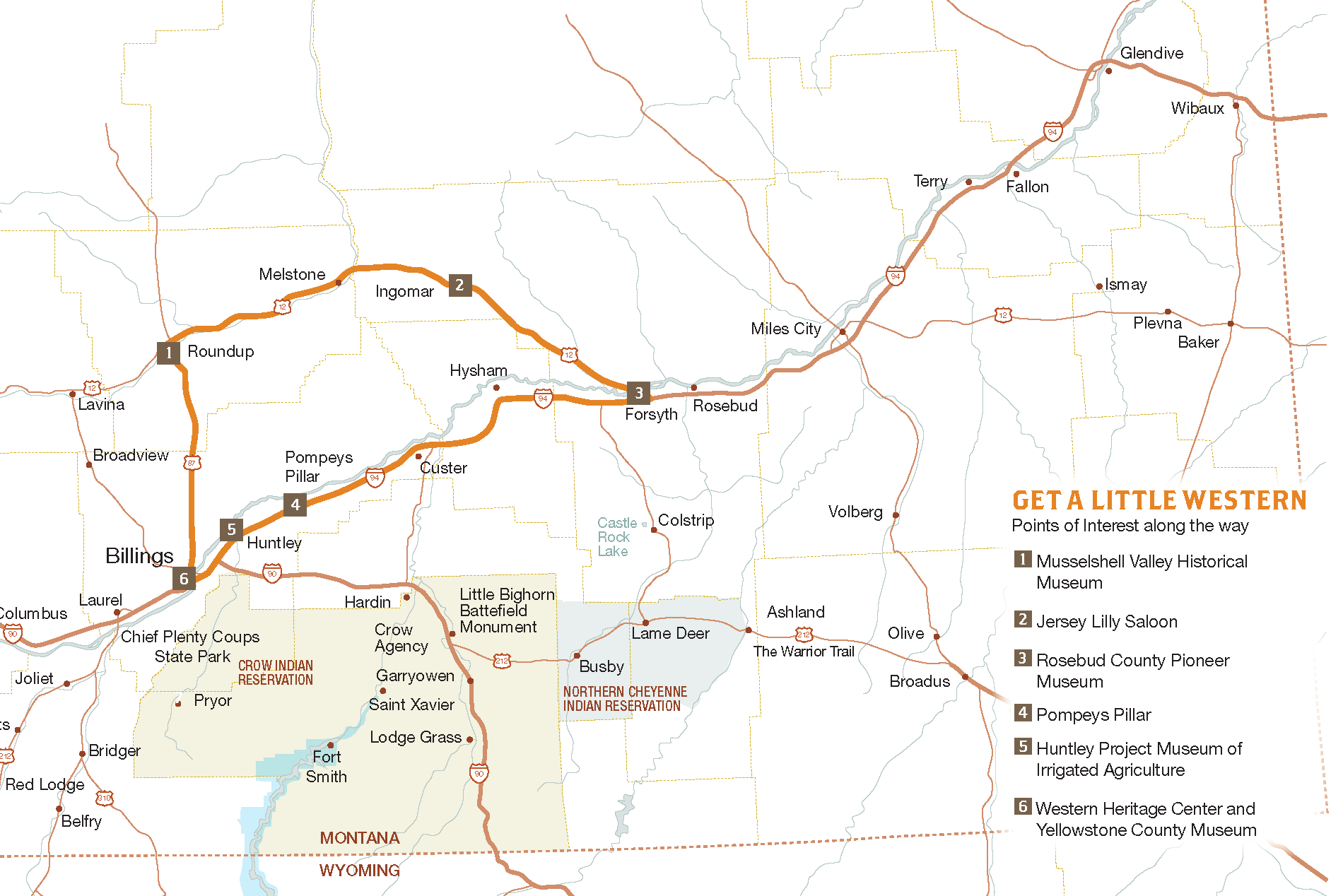 ROUNDUP
Logically named for the area's primary activity, Roundup started as a cattle-wrangling town. Visit the Musselshell Valley Historical Museum or stroll downtown to learn about the early days of "cowboying." Today, the town boasts a RiverWalk, several quaint cafés and an emerging art scene.
INGOMAR
If you're looking for some authentic cowboy fare, the Jersey Lilly Saloon in Ingomar is a must-stop. The burgers are great, the baked beans are famous and the "sheepherders" were once featured on the Food Network. If you want to know what a "sheepherder" is, you'll just have to try one.
FORSYTH
Here's a perfect example of a small town made wealthy by the railroad. Be sure to check out Forsyth's beautiful and historic county courthouse. Visit the Rosebud County Pioneer Museum to get a glimpse of life on the prairie at the turn of the century or picnic alongside the meandering Yellowstone River. You'll love the vintage cinema marquee, too.
HUNTLEY
Several small communities east of Billings combine to make up the Huntley Project, a groundbreaking irrigation experiment that forever changed farming in America. Learn more at the Huntley Project Museum of Irrigated Agriculture then enjoy dining al fresco at a local favorite along the Yellowstone River.
BILLINGS
The largest city in Montana, Billings is home to Public Auction Yards (PAYS) where you can experience live animal sales, sitting alongside buyers and sellers as sheep, cattle and horse are bartered— but don't lift your paddle! Next, steep yourself in cowboy history at the Western Heritage Center and the Yellowstone County Museum. Or, visit the Yellowstone Art Museum to marvel at Western and modern works. Then kick back along historic Montana Avenue in Billings' bustling downtown or stroll the state's only Walkable Brewery District.