We have so many authentic Western experiences that we created two itineraries. If you are really cowboy- crazy, try them both.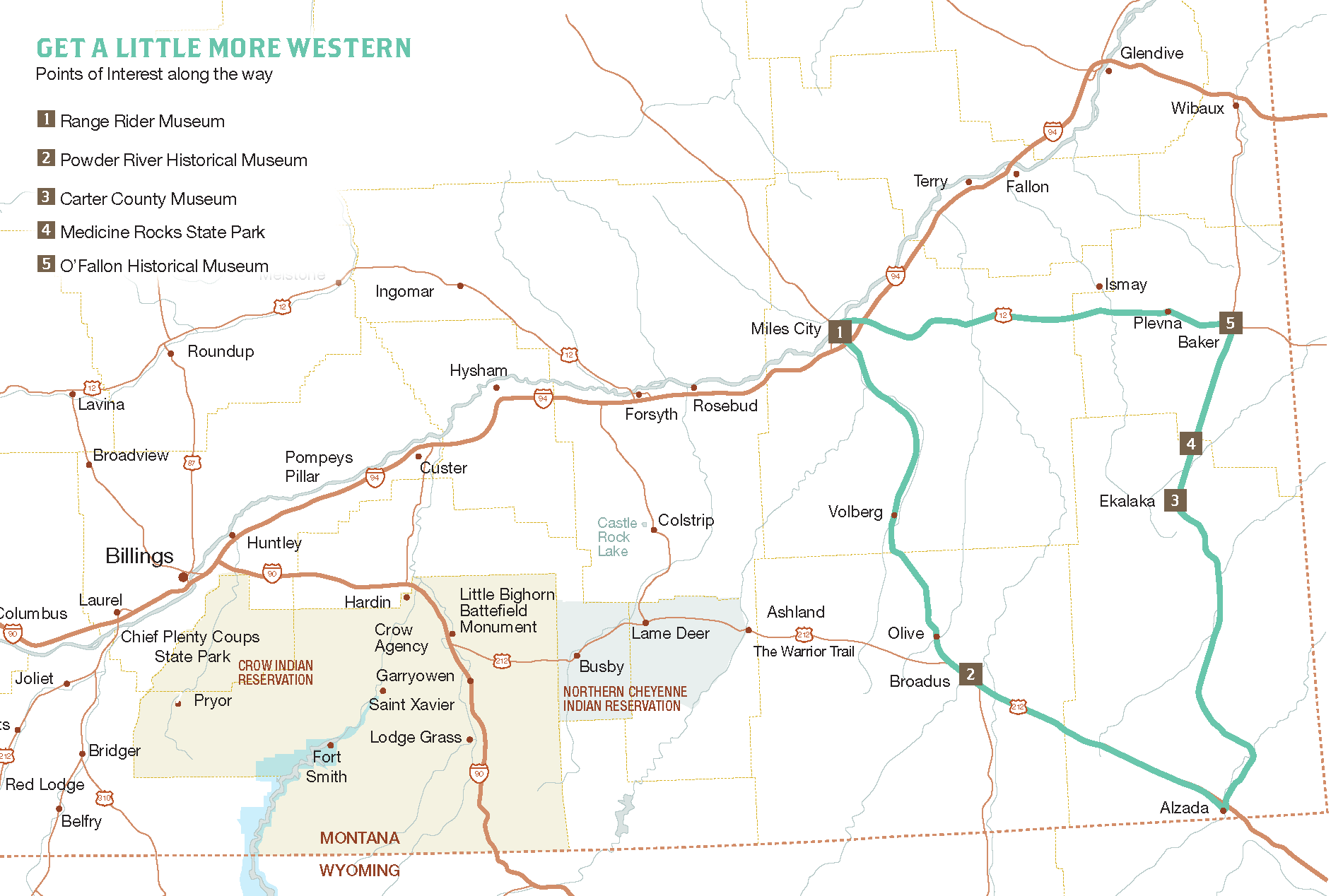 MILES CITY
Home of the world-famous Bucking Horse Sale, held annually the third weekend in May, Miles City still revolves around cowboy (and cowgirl) life. Be sure to visit the Ranger Riders Museum—a combination heritage center and historical campus— along with the Miles City Saddlery and WaterWorks Art Museum, which illustrates the Western story.
VOLBORG
To a traveler, Volborg may not look like much, but this community is the heart of a substantial ranching population, including 2017 Professional Bull Riders (PBR) World Champion, Jess Lockwood. Stop at the General Store to hear his story—and many others— or snap a quick pic at the Western-style post office and vintage dance hall.
BROADUS
Western heritage is part of everyday life in this small town. Browse antiques, Western gifts and clothing from local merchants or grab a meal beside cattlemen and ranchers. Be sure to check out the meticulous Ben Patten bit and spur collection or the historic frontier cabin at the Powder River Historical Museum—the craftmanship is unequaled.
ALZADA
If you lean toward unusual atmosphere, then you don't want to miss the Stoneville Saloon "conveniently located in the middle of nowhere," A.K.A. Alzada, Montana. With sawdust-covered floors, antique bar, kitschy décor and a bartender with a million stories, you can't go wrong. The establishment sassily advertises "Cheap Drinks, Lousy Food." Located spitting distance to the Montana-Wyoming border, Alzada is as unique as its name.
EKALAKA
Named for the Sioux bride of local scout and frontiersman David Harrison Russell, this town is more than a phonetic challenge. Stop at the Carter County Museum for a glimpse of the past, including an exhibit legacy of Tooke rodeo bucking horses and a tribute to Southeast Montana's military veterans along with their ranching roots. By the way, this town is pronounced: Eek-ah-lack-ah. How's that for a conversation-starter?
MEDICINE ROCKS STATE PARK
Mystery is part of the allure at this eastern-most state park of "big medicine." The sandstone spires of wind-worn, haunting hoodoos tell stories of the prairies with pictographs and petroglyphs plus more "modern" communication. Western aficionado Teddy Roosevelt called it, "as fantastically beautiful a place as I have ever seen," and we all agree that Teddy was spot-on.
BAKER
With roots etched in ranching, this prairie town now thrives on a combination of agriculture and energy industries. Feast your eyes on the world's largest steer at the O'Fallon Historical Museum or pick up some sandwiches and picnic at the town's man-made lake. Be sure to ask a local about the lake's story—there's no Loch Ness Monster, but you will be entertained.