The eastern Montana badlands are one of the best places in the world to find dinosaur fossils and study related geology. If you are following the Montana Dinosaur Trail, be sure to pick up your passport stamps at the indicated facilities. This route will take you through the heart of dino country in Southeast Montana and bring out your inner rock-hound. Start your journey in either Miles City or Glendive.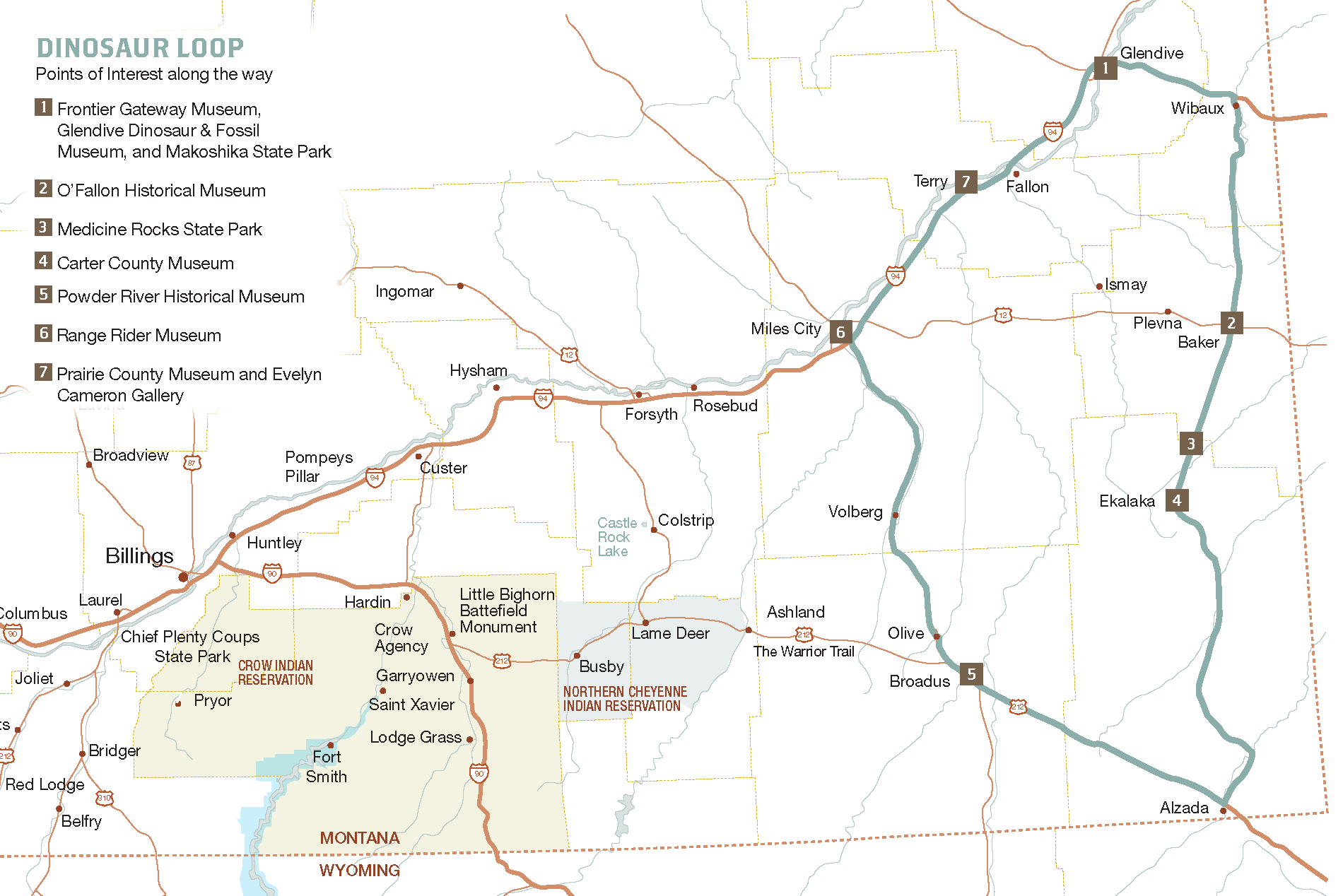 GLENDIVE
The Glendive Dinosaur and Fossil Museum, which gives an alternative, creationist approach, and Frontier Gateway Museum are both must-see spots for dinosaur enthusiasts. Once you've learned about our local dinosaurs, check out Makoshika State Park and see if you can spot a few yourself, or sign up for a fossil dig on private property. Both Frontier Gateway and Makoshika are stops along the Montana Dinosaur Trail, so be sure to have your passport stamped.
BAKER
Pop into the O'Fallon Historical Museum for an up-close-and-personal look at locally found fossils, including triceratops and hadrosaurs. After your excursion, stop at a local brewery and advance your geological education while wetting your whistle. For something different, try beer-yoga on Sundays.
MEDICINE ROCKS STATE PARK
Halfway between Baker and Ekalaka is a state park like no other. Stroll among the strange and fascinating sandstone pillars sprouting a hundred feet above the rolling prairies. Listen closely, and you will hear their stories created more than 60 million years ago as an ancient river laid down the rocks that became the Fort Union formation. Some primate precursors have been found at the Medicine Rocks area.
EKALAKA
Home of Carter County Museum, Montana's first county museum and another stop on the Montana Dinosaur Trail. The dinosaur exhibits, including collections dating back to the 1930s, cover 90 million years of history. Scientists from across the globe trek to Ekalaka to study the Cretaceous extinction event and subsequent "recovery period" that are well-preserved from a thin layer of ash—it is that popular. Visit during the annual Dino ShinDig the last weekend in July to learn the dirt on dinos from international experts.
BROADUS
The Powder River Historical Museum includes Mac's Museum, one man's lifetime collection of more than 22,000 fossils, rocks and arrowheads from the local area and across the world. You will find military artifacts unearthed from the Reynold's Battlefield, a forerunner of the Battle of Little Bighorn.
MILES CITY
Take some time to visit Montana's best-preserved saloon on Miles City's Main Street and imagine you're drinking your whiskey alongside rich cattle barons (or ruthless cattle rustlers). Spend time hunting agates along the Yellowstone River, exploring the seasonally-available Pirogue Island State Park or hike the aptly-name Strawberry Hill Recreation Area just east of town.
TERRY
Situated on the edge of the Terry Badlands, this small community is another agate paradise. Or, step up your adventure by driving, biking or hiking the Calypso Trail.* Don't miss Chimney Rock, the natural bridges or the plethora of hoodoos. For a more sedate look at this distinguished area, learn about world- renowned prairie photographer Evelyn Cameron at the Prairie County Museum and Evelyn Cameron Gallery or the Evelyn Cameron Heritage center.
* This is a minimum maintenance road that requires high-clearance, all-terrain vehicles and dry conditions. As a Wilderness Study Area, wheeled devices (including vehicles and bikes) are not allowed off the Calypso Trail road.