Out here, where the mountains roll out to meet the prairies and the rivers flow, we love our water. While Southeast Montana tends toward warm, dry summers, you are never too far from a lake or river. With opportunities to fish, boat or simply float, we know you will find our waters to be as refreshing as Montana's welcoming charm.
Bring your own boat, rent one or hire a guide with all the gear—all options are on the table. No matter which you choose, we know you will love being on the water out here in Southeast Montana.
Note: As of July 1, 2023, a conservation license is required for everyone age 12 and older to access most state lands, including wildlife management areas, fishing access sites and wildlife habitat protection areas, and all types of recreation—launching watercraft, hiking, biking, wildlife viewing, etc. State parks are excluded from this requirement.
Learn More Here
Guides & Outfitters
Not completely comfortable on the water? Not a problem—our guides know the rivers and lakes better than anyone. Plus, you will get some local flavor with these characters.
Boat Rentals
Don't have a boat? We can help. Rent a pontoon at Ok-ah-Beh Marina and explore the mini-canyons and crevices of Bighorn Lake. Or, try your luck at Tongue River Marina.
In the Billings area, you can rent a kayak or river raft at Sunshine Sports and Base Camp. You will need to arrange transportation to your launch and take-out sites.
BYOB—Bring your own boat
From kayaks and canoes, drift boats to fishing boats, we have the river or lake for you. Whether you are paddling the iconic Yellowstone River or cruising the massive Bighorn Lake, we know you'll have an epic experience out here.
Yellowstone River
Flowing out of its namesake Yellowstone National Park, the Yellowstone River is the longest undammed river in the lower 48 states. Jetboats, which are flat bottomed, are commonly used for fishing while recreationalists like to float and paddle kayaks, rafts, canoes and even paddleboards during slower flows.
Popular floats in the Billings area include Laurel/Riverside Park or Duck Creek to Blue Creek or East Bridge Fishing Access Sites (FASs). Use
We recommend asking locals and using your own judgement on timing for boating or floating this dynamic river. Seasonal ice-jams and high flows change the river and can create unseen snags, channel changes and the like. However, therein lies the challenge of the iconic Yellowstone River.
Use Montana Fish, Wildlife & Parks' website for more information about Fishing Access Sites to map your trip.
Bighorn Lake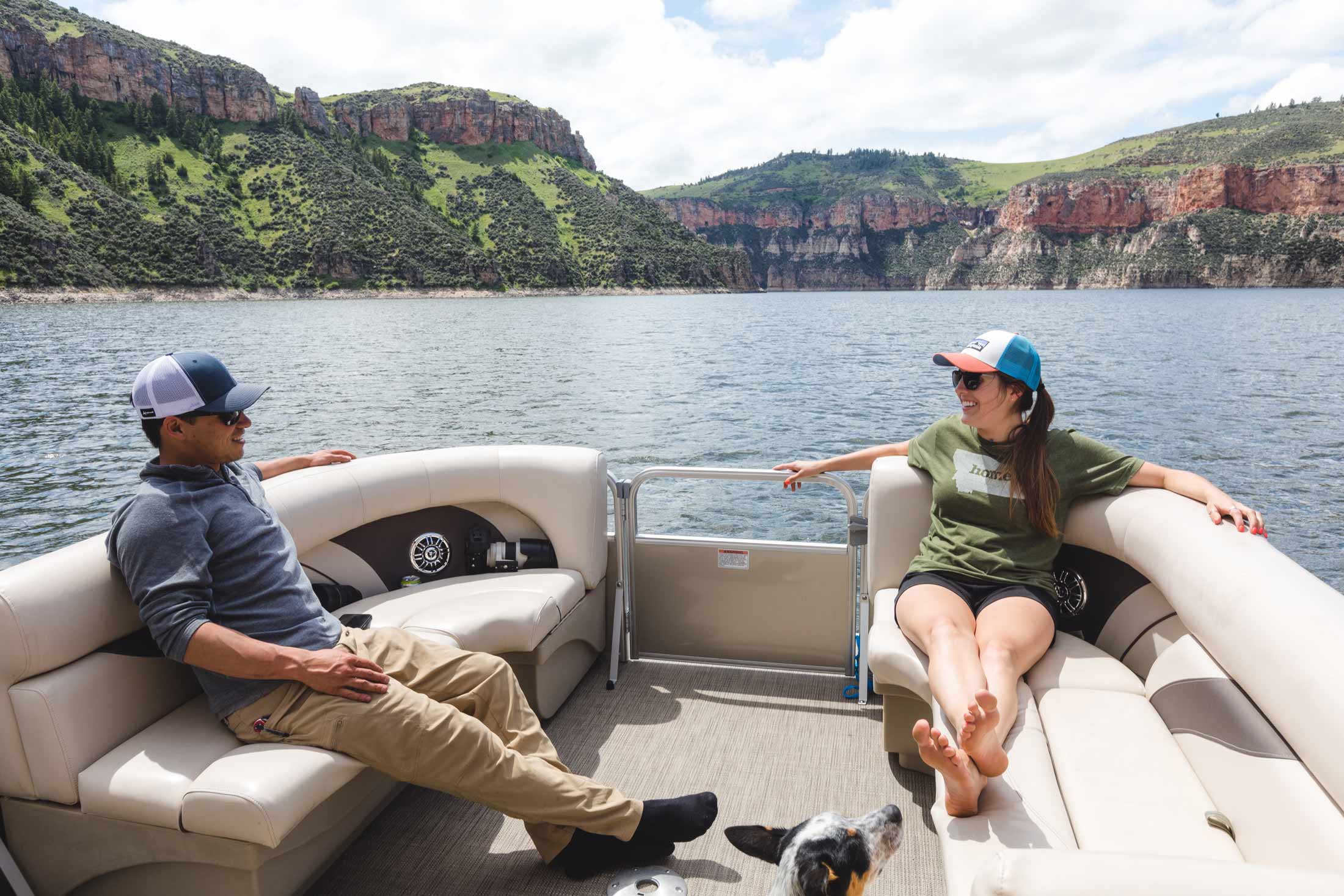 Photo by Andy Austin
Stretching 71 miles and straddling the Montana-Wyoming border, Bighorn Lake lies beneath steep, craggy canyon walls nearly 1,000 high. Created by Yellowtail Dam, this stunning lake is known as "Yellowtail" by locals.
The lake, which lies within the immense Bighorn Canyon, is popular during summer months for boating, water skiing and tubing, swimming, fishing, kayaking and canoeing. Visitors may see wildlife along the shoreline, including raptors, deer and black bears, plus bighorn sheep on the southern end.
The National Park Service (NPS) manages the Bighorn Canyon National Recreation Area, which lies within the Crow Reservation. Access the North Unit via Fort Smith, Montana.
Bring your own boat to first come, first served boat-in-only campsites. We especially like Black Canyon and Dayboard 9 (nine miles from Ok-a-Beh Marina). The NPS maintains floating latrines, picnic sites and camping sites during the summer months and the Crow Tribe concessionaire operates Ok-a-Beh Marina from Memorial Day through Labor Day. Visitors can rent pontoons for half- or full-day trips (must pilot own boat).
Note: You cannot drive through Bighorn Canyon National Recreation Area—only boat through it. The South Unit is accessible via Lovell, Wyoming.
Insider's Tip: Bring your own kayak and camping equipment and arrange a shuttle for a multi-day paddling trip from the North Unit to the South Unit for unmatched serenity.
Tongue River Reservoir State Park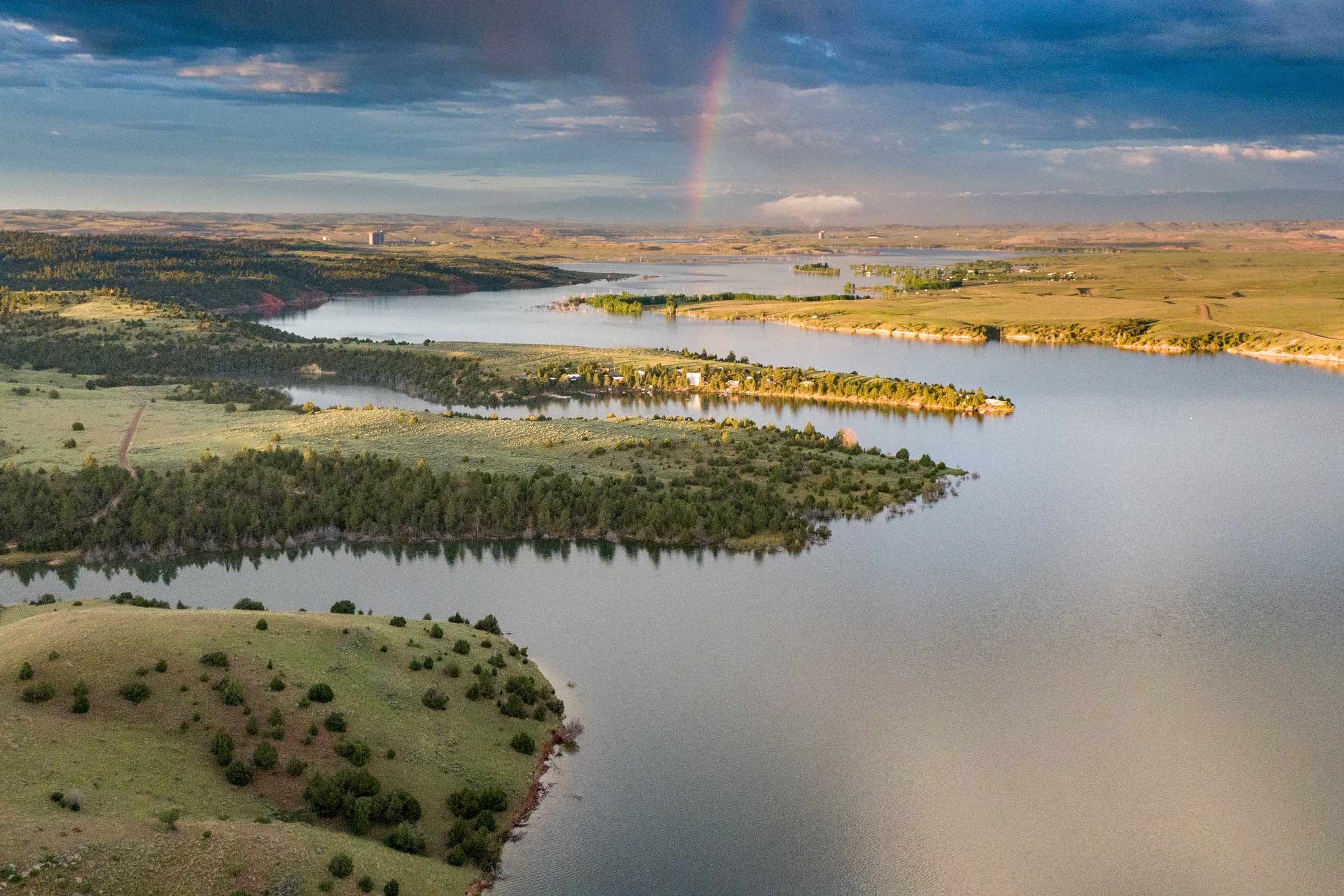 Photo by Andy Austin/Visit Montana
Another man-made lake, Tongue River Reservoir is one of the region's hidden fishing paradises and ice-fishing favorites. This reservoir flaunts excellent bass, crappie, walleye and northern pike fishing, with four state-record fish have been pulled from its waters.
The 12-mile-long reservoir offers incredibly scenic views of red shale formations and juniper canyons. The big, open areas throughout the lake are popular for water sports like tubing and water skiing. If you're looking for a relaxed activity, take in the view from a pontoon boat you can rent from Tongue River Marina. Or, for a slower pace, bring your own canoe, kayak or paddleboard.
Make your trip an overnight adventure and reserve one of the several campsites, check out their first come, first serve boat-in-only sites too.
Lake Elmo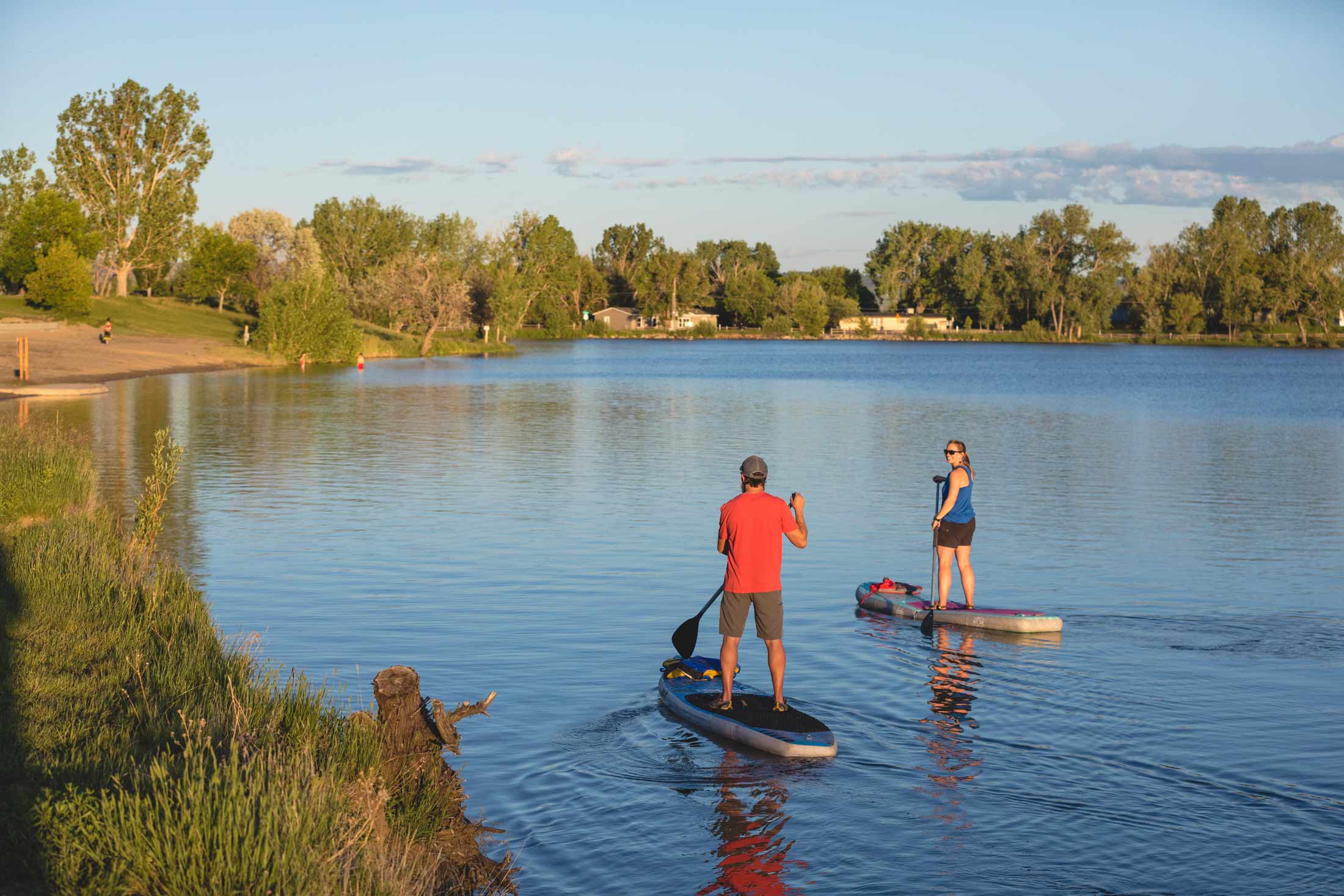 Photo by Andy Austin/Visit Montana
An urban man-made lake, Lake Elmo is perfect for a casual paddle or a day at the small beach. Fish this well-stocked lake throughout the year, angling from your boat (non-motorized only), on Roger's Pier by the south shore or ice fishing during the colder months. Visitors take advantage of this conveniently located lake in Billings for their picnic locations, bird watching opportunities and walking trails. You can also bring along your furry friend as Lake Elmo is dog friendly, featuring its own fenced dog park with a water area.
Lake Baker
Lake Baker is conveniently located in the heart of the town of Baker, it also boasts some of the best fishing around with good-sized rainbow trout and the opportunity to catch decent walleye. You can take your motorized boat on this charming lake or take advantage of the several fishing docks, the pier or swimming beaches. Bring the whole family to enjoy the paved walking path all the way around, the attached splash park, skate park and playground.
Castle Rock Lake
This peaceful lake will provide you with all the serenity you need on a perfect morning fishing trip. Castle Rock Lake sits just at the edge of Colstrip and offers a boat ramp (no gas motors) for you to launch your boat as you fish for walleye, pike and bass. If fishing isn't your thing, paddle along the shore in a kayak or paddle board for excellent wildlife and bird watching opportunities.