Wild, Wacky and Wonderful: A Road Trip Through Southeast Montana
2020-10-15 20:31:42
We ask you to empty your mind of expectations as we adventure across the butte, badlands and breaks of Southeast Montana, where the mountains roll out to meet the prairies. Join us on a road trip designed for those who avoid mainstream, but get a tingle in their belly when anticipating an experience that is one-off from average.
Feel history come alive at places like the Little Bighorn Battlefield National Monument, where Lt. Gen. Custer led the 7th Cavalry to a stunning demise. Fly fish the pristine Bighorn River or take a pontoon cruise on the Bighorn Lake and kayak below cliffs that tower 1,000 feet in the air. Experience the changing light at Medicine Rocks State Park, where Plains Indians hunting parties conjured up "big medicine" among the wind-worn, sandstone spires and haunting hoodoos. Witness where Captain William Clark of the Corps of Discovery carved his name in a sandstone pillar along the Yellowstone River in 1806. It is the only visible, in-the-field evidence that William and Clark Expedition passed through this area. Stand in awe of Southeast Montana's night skies, while looking through a telescope. Stargazing lowers your heart rate – in a very good way.
Day One
Begin your morning in Billings, Montana's Trailhead with an early start to the day. Head south of town on Interstate 90, watching as the mountains come into clear view on your right hand side throughout the drive. Whether you're a fisherman or just looking to relax on the water, the Bighorn River has something for you. Those looking to catch trout on this world-famous stream just might get lucky on the crystal clear waters, especially in late summer and early fall. For everyone else, bring your own boat, or rent one from the Ok-A-Beh Marina (open seasonally). Explore the caverns and crevices or the Bighorn Canyon National Monument while floating through both wide and narrow channels. Keep your eyes peeled – many types of wildlife (including bears) live in the canyon. Bring lunch along, and enjoy it picnic-style near the marina, or while out on the waters.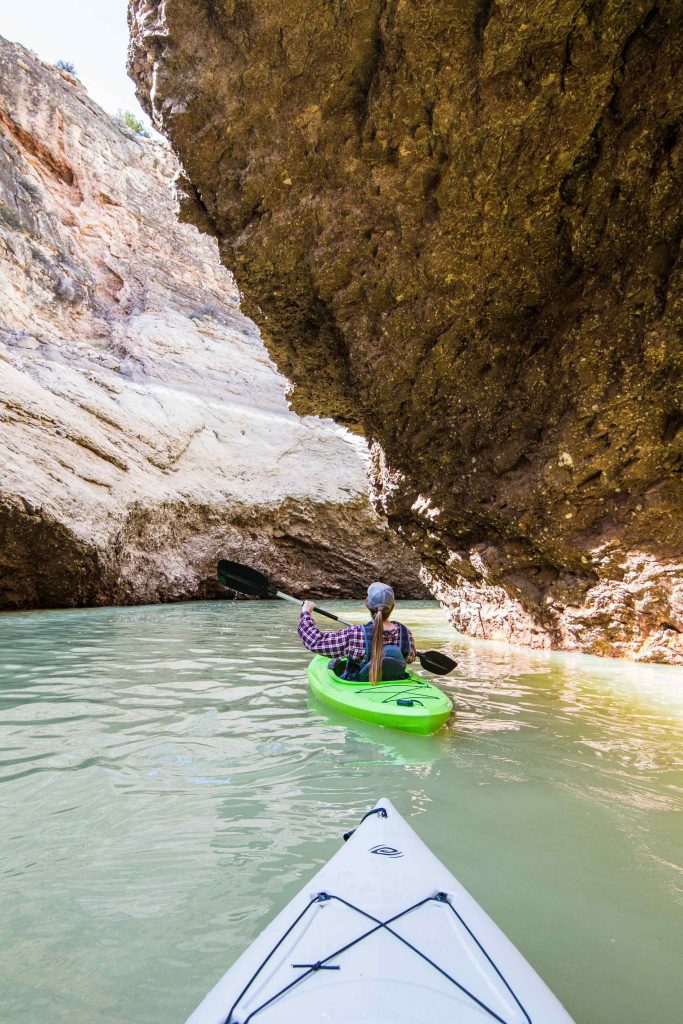 When you've soaked in all the Vitamin D you can for one day, kick your feet back and relax at one of the lodges near Fort Smith for a calm and relaxing evening. Many accommodations near the Bighorn River are full-service, offering dinner and breakfast to fuel you up for your next adventure.
Day Two
Rise early and take in the sunrise (if you've never seen one on the prairies – it's something to behold) and enjoy breakfast before heading out for the first activity of the day. Head back toward the interstate, and less than an hour's drive will take you to Little Bighorn Battlefield National Monument. Visit the 7th Cavalry Monument and Indian Memorials. Visit the museum and visitor center and talk to park rangers about the history of the battle for a deeper understanding of what happened on the grounds nearly 150 years ago. Drive the 4.5 mile tour road to the Reno-Benteen entrancement site and walk the self-guided tour. And walk through the Custer National Cemetery.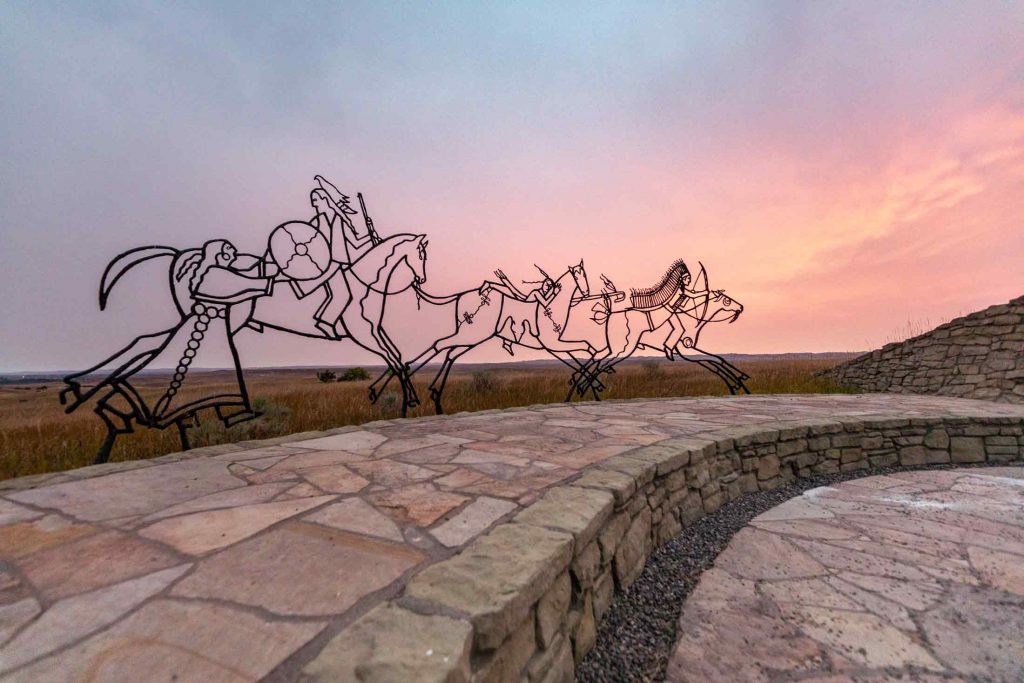 With so much to see and take, we suggest giving yourself several hours to explore. When you're ready for a lunch break, head across the road to the Custer Trading Post and Café for lunch and a shop that is sure to have something for everyone on your list.
When your bellies are full and wallets are a little lighter, it's time to hit the road again. Head east on US Highway 212 for the Custer Gallatin National Forest. Find your way to the Diamond Butte Lookout Tower, a 30 foot high masonry tower for 360 degree views of the area (be prepared to hike about 200 feet from where the road ends to the tower). From late fall to early summer, the tower can be rented out to stay overnight. But, during the summer months it's used as an active fire lookout for the Ashland Ranger District.
After spending some time just taking in the views (and let's be honest – we could do it all day) head for your final stop of the day, Broadus. We recommend checking out the Sagebrush Inn and Suites to refresh yourselves before heading to dinner at the Powder River Stockman's Club.
Day Three
Sleep in a little today (you sure deserve it!) before heading over to the Powder River Historical Museum. With exhibits just as varied as the landscapes you're taking in – everyone will find the one thing they love here. Log buildings, an old-time "town", Indian artifacts, vintage automobiles and more!
If you're loving these small Southeast Montana towns, we've got another one on deck: Ekalaka (ee-kuh-lah-kuh). If you can't pronounce it the first time, we understand, it's not the easiest to pronounce, but once you figure it out, you'll never forget it. If your stomachs are rumbling, head over to the Wagon Wheel Restaurant for some grub before hitting the Carter County Museum. This spot is a stop on the Montana Dinosaur Trail, made up of 14 museums and parks across the state of Montana that offer a glimpse into the historic discoveries and gives a better understanding of the giants that once inhabited the earth.
If you're looking to stretch your legs a little more – the next stop is right up your alley. Medicine Rocks State Park lies just north of Ekalaka. This was a place of "big medicine" where Indian hunting parties conjured up magical spirits. One of the first tourists to the area? Teddy Roosevelt in the late 1800s. He was impressed by the beauty of the sandstone rock formations which have a Swiss cheese look from weathering over the years. Bring food with, and picnic in the shadows of these unique formations.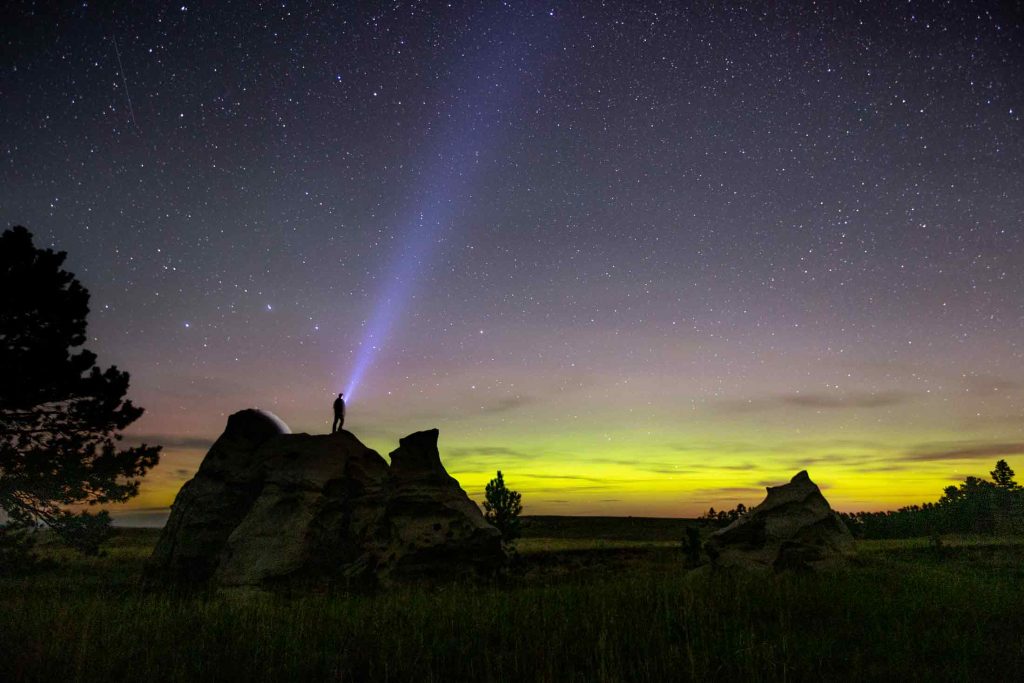 When you're ready to catch some zzz's, head to Baker for overnight lodging options. We suggest staying at the Red River Inn and Suites.
Day Four
One of the things we love so much about Southeast Montana? All the history – much of which is preserved in each town at a museum. Baker is no different – with the O'Fallon Historical Museum and Prairie Rose Classics both open for visitors. Make sure to stop at the O'Fallon Historical Museum for one big surprise (hint: have you ever seen an almost 4,000 pound steer?!). Grab lunch at one of the cafes in town before heading for Terry.
If you've never been to a Wilderness Study Area, now is your chance. The Terry Badlands WSA is an awe-inspiring area of land. Colorful, banded cliffs overlook rolling prairies. Sandstone bridges, spires, table tops and buttes divide deep gullies formed from thousands of years of erosion. Because of the landscape, only high clearance vehicles will be able to get to this beautiful region. Biking is allowed and encouraged, but only on the roads, and not allowed off-roads.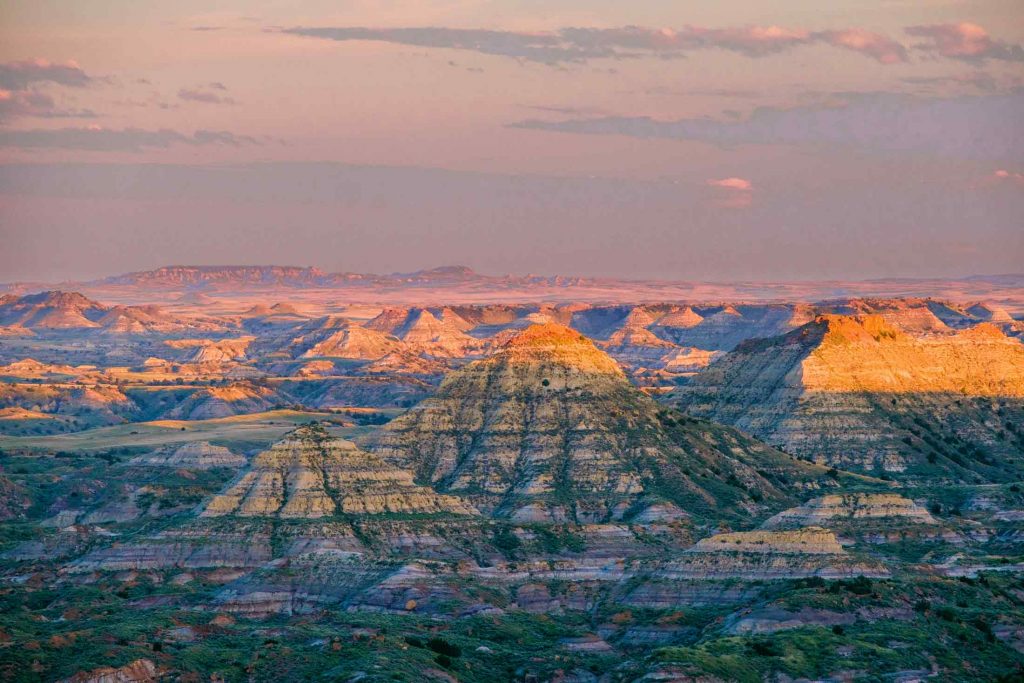 Head back to town for a ~spooky~ night's stay at the Kempton Hotel. The property was built in 1902 and is the longest continuously operated hotel in Montana. A building this old isn't without its share of ghost stories – if you happen to hear spurs or footsteps on the main level when no one is around, don't be surprised!
Day Five
After breakfast at the hotel, it's time to learn about one of the most famous photographers to come out of Southeast Montana. Evelyn Cameron was English born but moved to America, and more specifically, the area that is now Terry. She had a passion for photography, and captured the life of her and her family as homesteaders in the late 1800s. Visit the Prairie County Museum and Evelyn Cameron Gallery for a look through her lens at the trials, tribulations and celebrations of life on the prairies more than 100 years ago.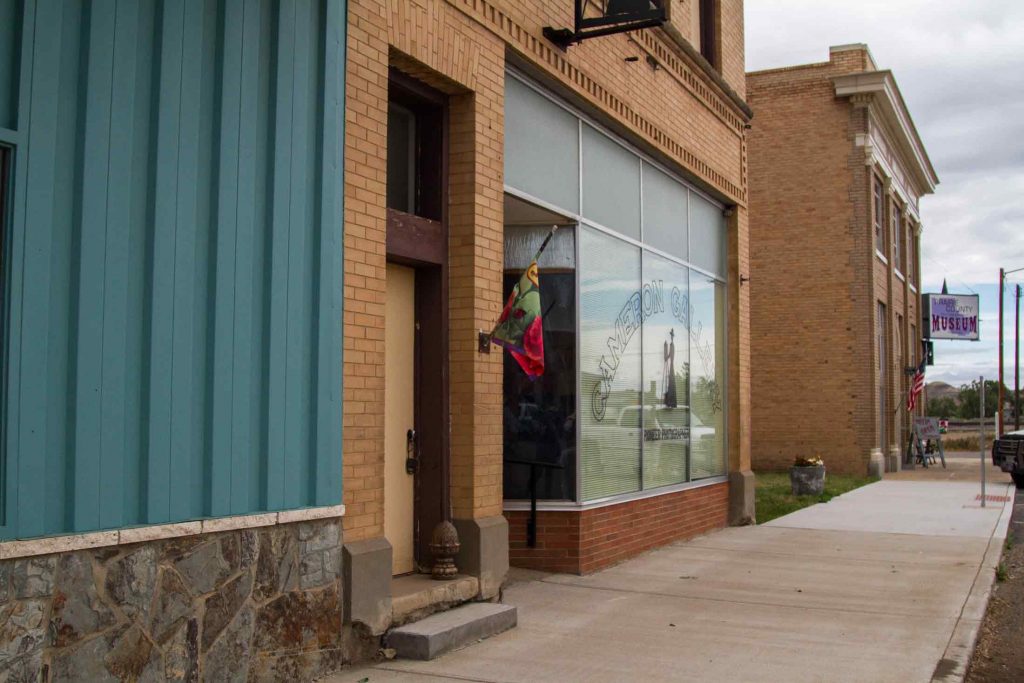 If you're looking for a real dose of western spirit and hospitality – the next stop on this adventure will be just what the doctor ordered, as you head for Miles City. Upon arrival choose which outdoor space you want to visit – Strawberry Hill Recreation Area, Pirogue Island State Park, the Matthews Recreation Area or hanging out near the Yellowstone River. Hiking, biking, bird and wildlife watching are all common activities in these areas.
Once you're back in town, stop at Tilt Wurks Brewhouse for lunch. Good food and a fun atmosphere will get you set for your afternoon adventures. The next stop is Range Riders Museum for a truly western experience. Tour all the buildings on the property, to understand the life of a cowboy in the 1900s.
This road trip wouldn't be complete without a stop at Southeast Montana's only vineyard and winery – Tongue River Winery. Talk to the owners about how they got started (and all their award winning wines) while taste testing outside.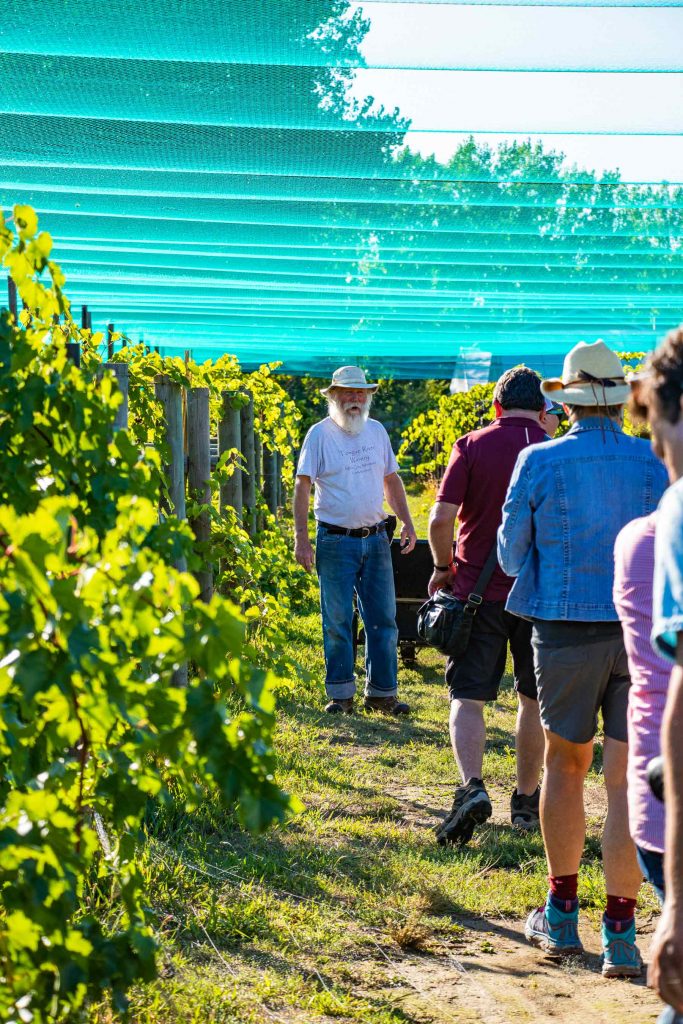 When you're ready for some grub, we suggest Black Iron Grill in Miles City. A full selection of accommodations is available to you in Miles City from camping to bed and breakfasts of hotels.
Day Six
It's your final day in Southeast Montana – are you ready to make the most of it? After breakfast, head to the other museum in Miles City, the WaterWorks Art Museum. The museum is in the 1910 Water Works building that produced the city's drinking water for over 60 years. You'll find several collections here, many featuring local and state artists.
From here, you'll have a chance to explore downtown Miles City (where you're more likely to see a horse than an RV!). Visit some of the unique shops including buyMT.com, Vintage and Rustics, and Miles City Saddlery. Before you leave town, hit the Montana Bar for lunch, one of Miles City's most iconic Western bars.
On your way back to Billings, stop by Pompeys Pillar National Monument. Here you'll see the only remaining physical in-the-field evidence of Lewis and Clark's Corps of Discovery. Walk the steps to the top for panoramic views of the surrounding area, including the Yellowstone River.
Phew, that was quite the road trip! We hope you enjoyed your travels through Southeast Montana and have a deeper understanding and appreciation for what makes this corner of the state so special.
Traveler's Note: This itinerary was created prior to the COVID-19 pandemic. Please remember to check ahead of time as not all places may be open, stay home if you're sick and follow local guidelines and protocols. For more information, visit SafeOutHereMT.com.
"For the latest Southeast Montana travel alerts and safety tips please visit SafeOutHereMT.com."