Wally Badgett – the Cowboy Cartoonist
2021-08-19 21:08:28
By Donnie Sexton
The Mother of all rodeos and the one that heralds the start of Montana's summer rodeo season is, without doubt, the Miles City Bucking Horse Sale. The four-day event is always held the 3rd weekend in May. Traditionally, the weekend was designed for breeders to showcase bucking horses for rodeo stock contractors to bid on and buy. Over time, the Sale has grown to include bull riding, horse racing, mutton busting, a trade show, street dances, and a parade.
The Bucking Horse Sale is one of my favorite Montana events and always yields endless photo opportunities with the train wrecks between man and horse. I've never paid much attention to who is buying these bucking horses and bulls and who is selling them. I hoped to get a behind-the-scenes perspective of someone familiar with the Sale this year in addition to my photography endeavors.
I asked my friend and Miles City Chamber director John Laney, for a contact on getting the scoop on the sale. Laney blurted out, "Wally Badgett, he would be a good one." I googled Wally and recognized his handsome face from my previous visits to the Bucking Horse Sale. As I recall, he was always in the arena, looking very official with a clipboard in hand, probably judging the horse and rider. Laney had provided Wally's landline number but said there was no point in giving me his cell as he never answers it. With one phone call, we arranged a Sunday morning rendezvous.
We met at the Range Riders Museum in Miles City, and I soon realized I was talking with a living legend who kept me smiling for a good hour. Wally has worn many cowboy hats in his lifetime. He has been a deputy sheriff, a rodeo coach at Miles City Community College, a brand inspector, a champion bull rider, bronc rider, and most notably, the syndicated cartoonist of a character named "Earl." Wally is a permanent fixture at the Bucking Horse Sale. In his early years, he rode the bucking broncs but now helps with judging and scoring. He also flips pancakes at the Range Riders Pancake breakfast during this popular weekend.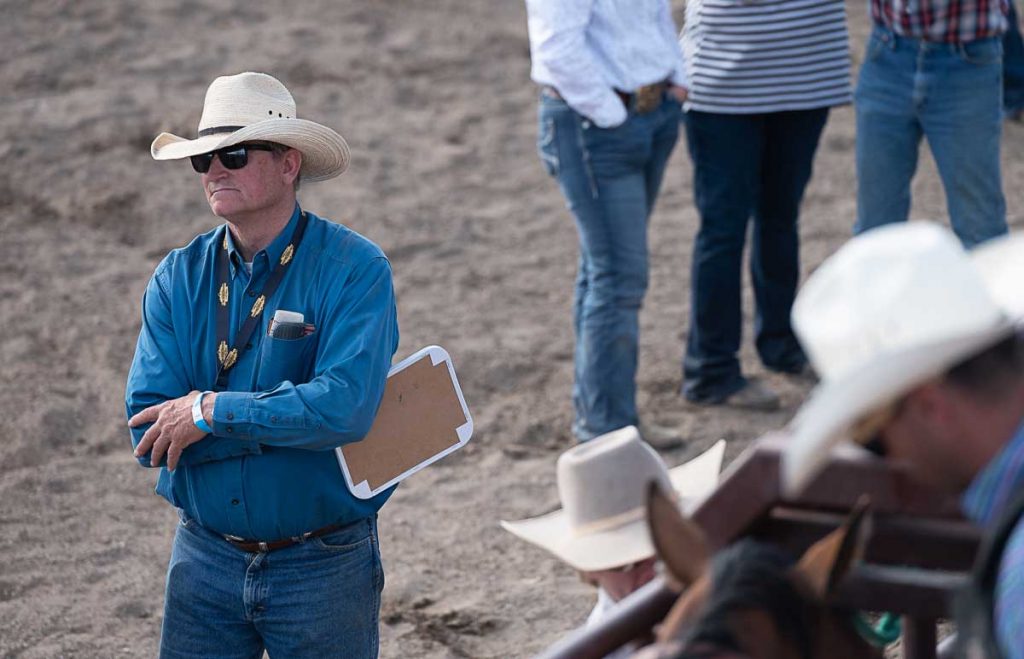 Wally's roots are anchored deep in the soil of Southeast Montana. He grew up on a ranch on Otter Creek, near the Cheyenne Indian Reservation. He competed in bull riding in high school and at the community college in Sheridan, Wyoming. In 1971, Wally was the National Intercollegiate Bull Rider champion. He competed in the National Finals Rodeo in 1974, where he finished eighth in the bull riding world standings. In 1975, Wally was the first Montana pro-circuit champion bull rider. Then he gave up the sport. Wally grinned as he told me, "Then my brain kicked in. I hated pain. I'm proud to say I never took a ride out of the arena in an ambulance."
Wally recalled as a kid, he liked to doodle. When his competition days were over, Wally turned that doodling into the serious business of cartooning with the creation of Earl. Wally says, "Earl pretty much has nothing but bad luck but never gives up. There is quite a bit of myself in Earl."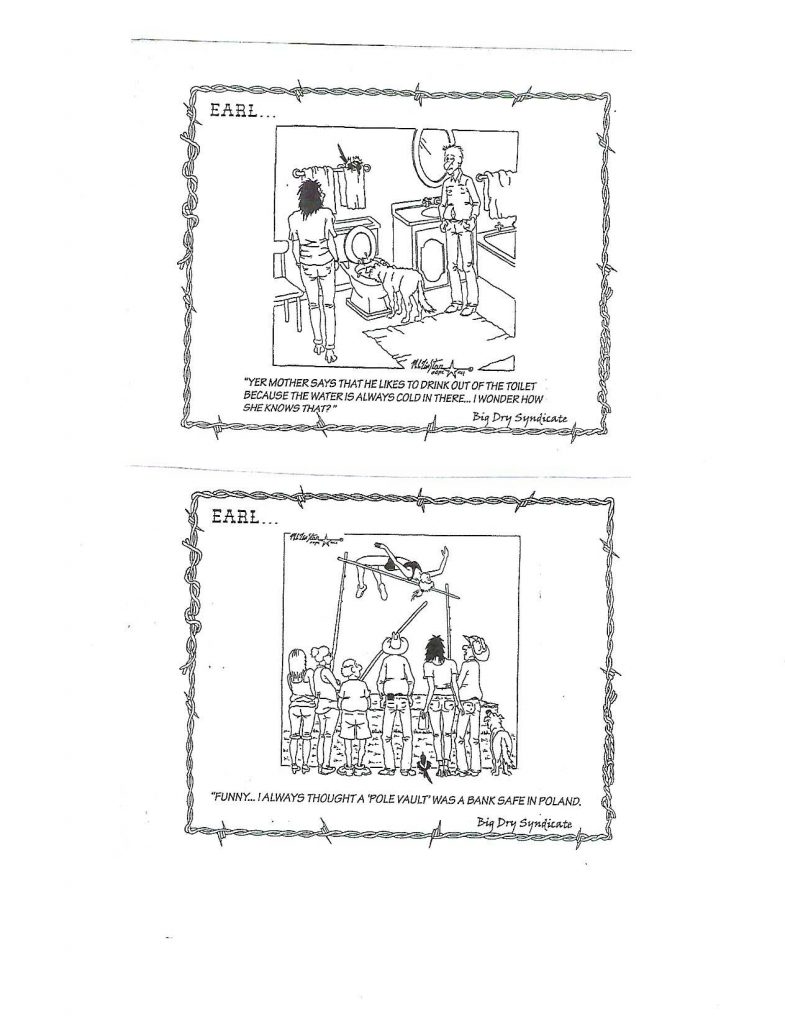 As Wally's life unfolded, he would marry and have two kids. Along with his cartooning, he served as a deputy sheriff for Custer County for 14 years. "Folks kept stopping at the sheriff's office not needing a sheriff but looking for the cartoonist. That's when I decided I needed to choose, so I turned in the badge." In 1996, Wally became the assistant rodeo coach at Miles City Community College until 2003, then took over as head coach until retiring in 2019. He claims he taught by example, having the athletes watch what he did and then instruct them to do the exact opposite.
Today, Wally is self-syndicated (Big Dry Syndicate) in 150 newspapers across the US. He is quick to credit his success to "She-Who-Must-Be-Obeyed," as he affectionately calls his wife Pam. "If something happens to her, I'm sunk. I'm not technie at all. She takes care of all that stuff." Wally claims he doesn't Facebook, twiddle, tweet, google, foogle, finagle, frap or anything else that has to do with a computer. According to Wally, it's because he's still maintaining moral high ground.
Wally gifted me a few of his unique Cowboyin' With Earl calendars. With each day of the year, he has written in bits and pieces of his irreverent humor. For example, he writes on Sunday, March 1, 2020, "The Reverend said we should live each day as if it were our last. So I went home and took a long nap because who wants to be tired on the last day of their life." On another day he wrote, "She-Who-Must-Be-Obeyed says I can multi-task…I can aggravate her and amuse myself at the same time."
Wally shared a few tidbits about the Bucking Horse Sale. "People think bucking horses are treated poorly. They're treated better than race horses. They work like two minutes a year, eight seconds at a time. The rest of the time, they're hanging out with their friends, running free and being well-fed. Racehorses are stuck in a paddock. I want to be reincarnated as a bucking horse."
Our visit concluded with one last Wally story. "I remember as a kid when Ted Kennedy campaigned for his brother John at the Bucking Horse Sale. He attracted a lot of attention, and he was wearing suit pants. He got on a horse and was quickly bucked off, but I remember it was so odd to see him wearing suit pants."
I may not have found out much about the buying and selling of horses at the Bucking Horse Sale. But I had a heck of a great visit with Wally Badgett and his larger-than-life personality.