Hop on the Trail….The Montana Dinosaur Trail
2021-03-17 22:07:08
Out here in Southeast Montana, legends loom large over the land. But what's even bigger than those tales of the past? The actual creatures – now extinct dinosaurs – that inhabited the area millions of years ago.
From the north to the south, east to west these mysterious creatures once roamed what is now the state of Montana when the land looked much different. Think tropical climate, complete with a sea where creatures swam and plants flourished. Now, several eras later, Southeast Montana is a hotbed for dinosaur fossils.
Looking for a way to explore the history of dinosaurs in Montana? Hop on the Montana Dinosaur Trail, made up of 14 locations across the state, specializing in telling the stories of the relatively-unknown. Three locations in Southeast Montana: Carter County Museum, Frontier Gateway Museum and Makoshika State Park will get you started on your adventure.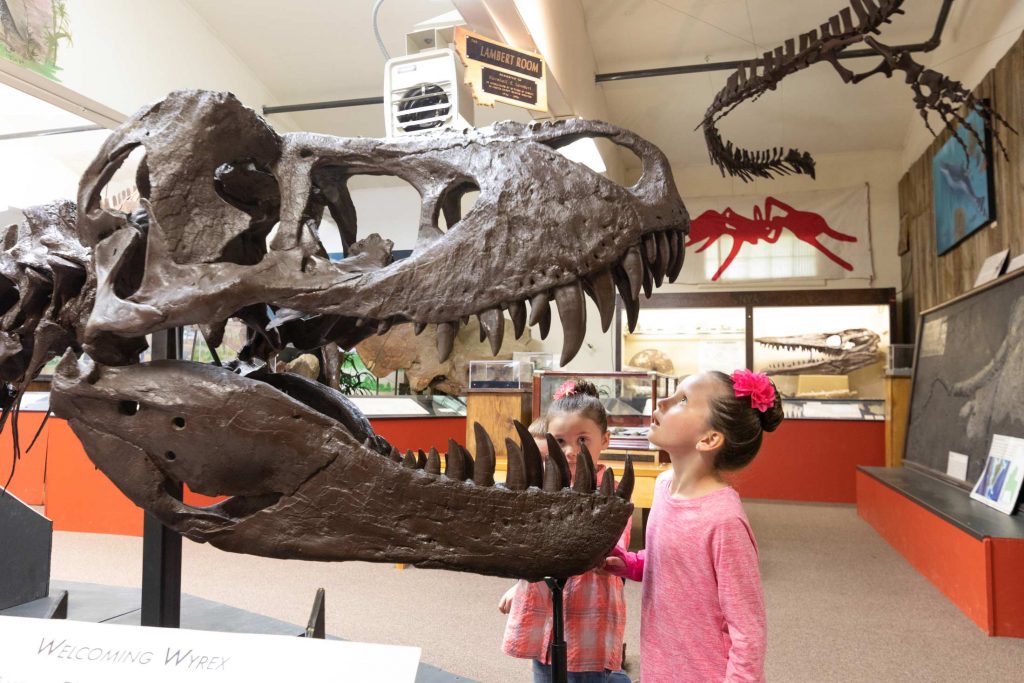 Carter County Museum
The Carter County Museum in Ekalaka is sure to wow the little ones, with skulls of dinosaurs bigger than their own heads on display. As the state's first dinosaur museum, exhibits here cover 90 million years of history in the region. Find a fully mounted skeletons of a T. rex, a complete skull of a Triceratops plus mounts and casts of so many more. Plan to visit this site in July, when the museum hosts the Annual Dino Shindig where scientists talk about their work in the area. Plus, you'll have the chance to take part in an excavation in the land around Ekalala and learn about field paleontology.
Frontier Gateway Museum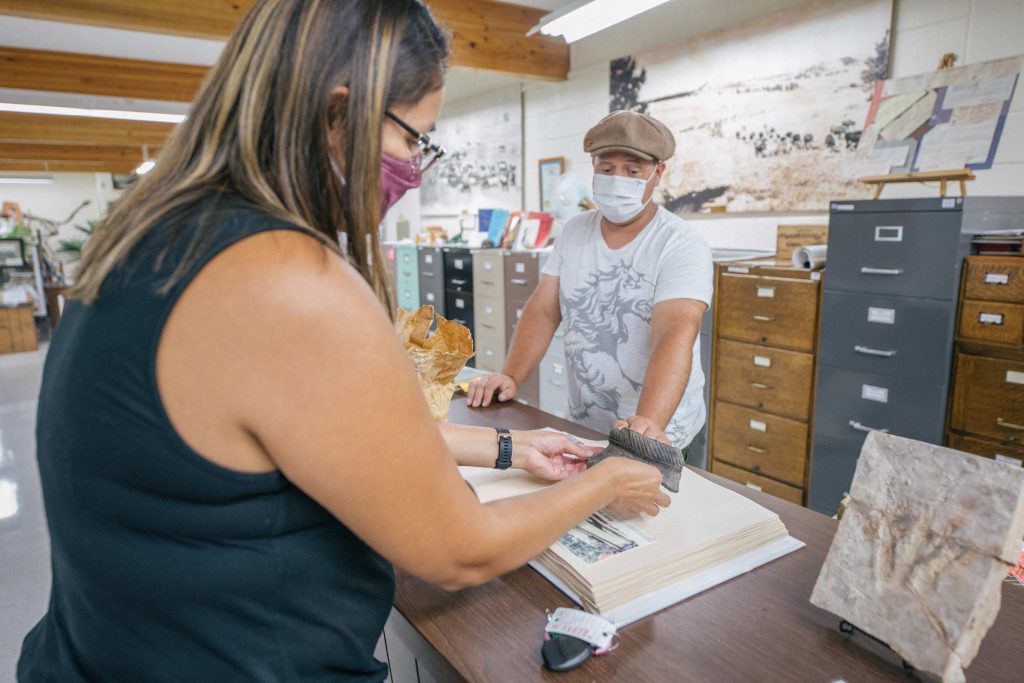 Head to Frontier Gateway Museum in Glendive for a look at Margie, a locally found struthiomimus. Margie has long legs, small head, a toothless birdlike beak and a long stiff tail used as a counter-weight to keep its balance. Find other fossils on display including a display of a Stegosaurus, which grew to about 7 feet long and 4 feet tall.
"Frontier Gateway is a local history museum, which in our area means history of dinosaurs as well as people. Many of our visitors last summer were following the dinosaur trail, and we hope for even more this summer. Our curator is working to organize our fossil displays in a more cohesive way and would love to talk dinosaurs with museum visitors!" – the Board at Frontier Gateway Museum.
Makoshika State Park
If you're looking to find your own fossils, walk the trails in Makoshika State Park. Fossils from more than 10 species of dinosaurs – including the Tyrannosaurus Rex and Triceratops – have been found throughout the badland formations of the park. The lands of southeastern Montana, and Makoshika, are part of the Hell Creek Formation, formed during the Cretaceous Era. As erosion continues, you may be lucky enough to spot a fossil unearthed along the paths. If you're lucky enough to come across one, state park rules ask you to share with a ranger rather than take it home, so everyone can enjoy these discoveries.
Stop into the Visitor Center, where interpretive displays and fossils are ready for your viewing.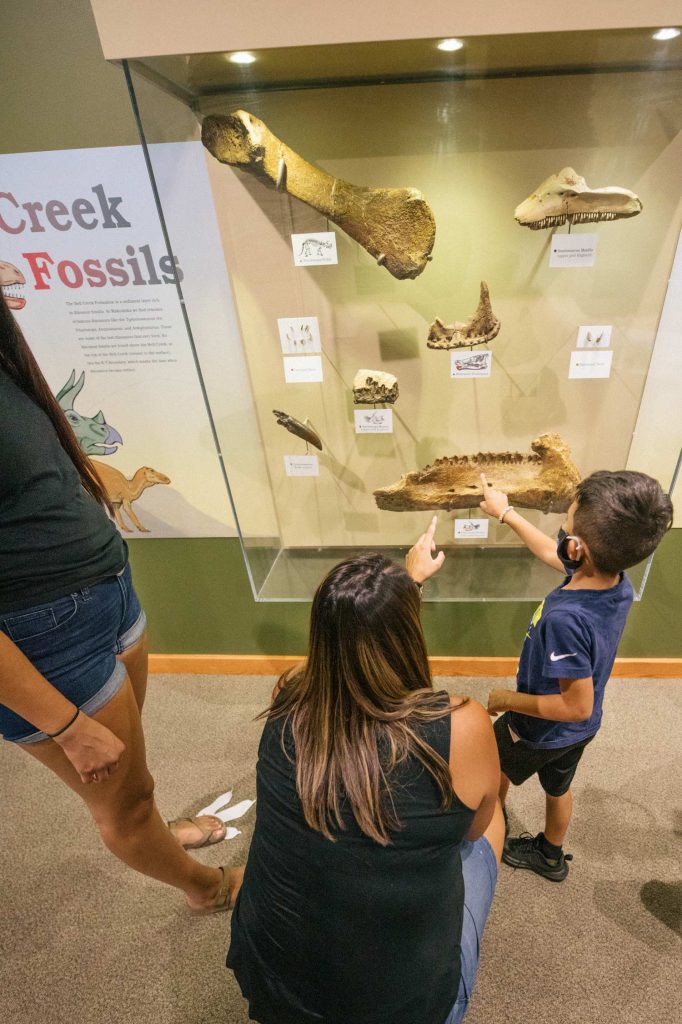 Get Your Passport
Hop on the Montana Dinosaur Trail and make sure to get your very own Prehistoric Passport – sold at any of the locations on the trail. Trail participants can complete the journey in any order over five years – giving you plenty of time to get to all the spots. Head to Visit Southeast Montana's website for recommendations on places to stay near the three locations in the region. Once you receive the "Dino Icon" stamp from all 14 places, you'll be eligible to get the rewards for fulfilling your passport.
Find more information on each of the locations in Southeast Montana on the Montana Dinosaur Trail's YouTube page.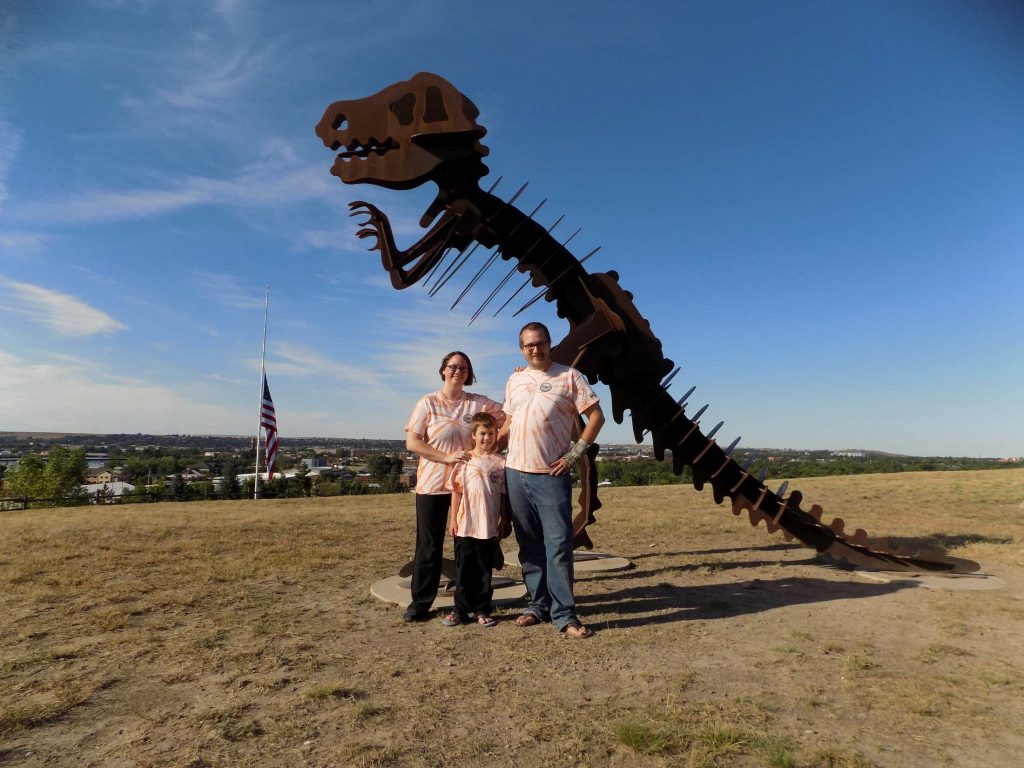 Need a little more inspiration to get your travels on the trail going? Read below to see what some of those who have completed the trail have to say.
Our family (and our travel companion rex) had a blast exploring the trail this summer! I tell anyone I can about it, it is such a worthwhile family adventure! Especially for those who love dinosaurs and fossils like we do Our son learned so much! The little passports and the shirts are just the coolest keepsakes to remember our trip as well! Thanks again from the Petersons.

The Peterson Family from Montana.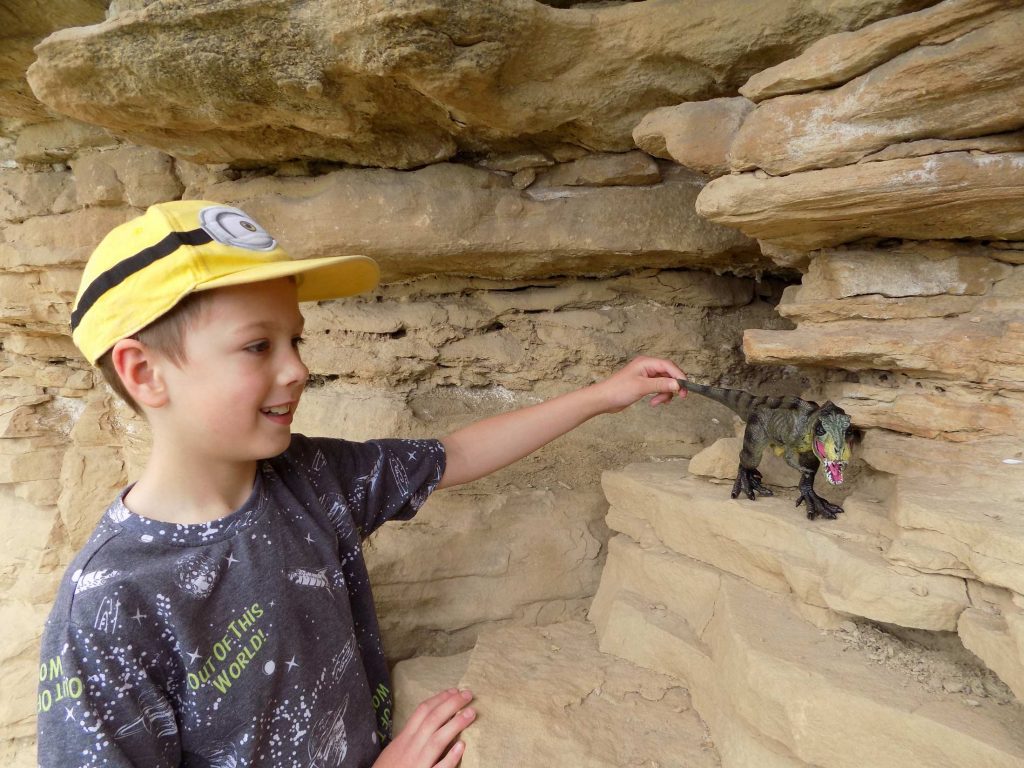 Hi folks! My husband, son, and I did the Montana Dinosaur Trail start to finish this past July and had a marvelous time. I've included some pictures below and, as you can see, we had a lot of fun. Feel free to use them as you see fit. Everyone was so helpful, knowledgeable, and friendly along the trail...thank you so much!

The Luck Family from California
I don't know about you, but I'm starting to get REAL tired of this COVID situation and am dreaming of the day I can get back to traveling and especially visiting museums. As the token dinosaur friend, I'm often asked where to go to see the best fossils in Montana. So, I made a list of five Montana dinosaur hot spots you don't want to miss! https://unbelievab.ly/five-cant-miss-dinosaur-hot-spots.../ All these are stops on the Montana Dinosaur Trail which you should definitely check out if you want the full Montana dinosaur experience. It was hard to pick five from all the great museums, but if you have limited time these are ones I think are worth a whole trip.

Katy Brooke