In the smallest town in Southeast Montana, the historic town of Garryowen, the Custer Battlefield Museum offers an intimate glimpse of original artifacts from the historic Battle of Little Bighorn. You will stand near the site where the actual battle began, and pore over the vast collection of vintage beadwork, rare photography, original bronzes, paintings and rare documents, all preserving the history and memory of those who fought on both sides of this significant skirmish.
Explore an internationally acclaimed collection of more than 100 historic photographs by the world-renowned photographer David F. Barry. This is the largest collection of Barry's works, containing many of the most recognizable images of the American frontier, including General George A. Custer, Benteen, Sitting Bull, Gall, Low Dog and Tom Custer. Having toured the world over, these photographs give a rare opportunity to view many of the people and events that led up to the Battle of the Little Bighorn.
Along with the battle-action diorama, Indian War era artifacts are on display, featuring Little Wolf's golden eagle tail war bonnet. Witness one of the shovels used to dig the graves of the fallen soldiers, an early Sioux dugout canoe and horse accoutremxent found in the Reno retreat area. The museum is home to Tom Custer's initialed Kerr revolver and a fully loaded Remington pistol, most likely dropped on the Reno retreat route. Several war clubs, trade knives and cavalry spurs are on display, plus beaded Indian war shirts and Flow Blue enamelware from Sitting Bull's camp.
View the only-known attested signature of Sitting Bull, showcased on the contract for the Lakota leader's appearance in the famous Buffalo Bill Wild West Show, countersigned by two Indian agents. Also on exhibit, a replica of the rock pictograph—attributed to Crazy Horse—made on a sandstone cliff above Reno Creek to signify the end of the battle.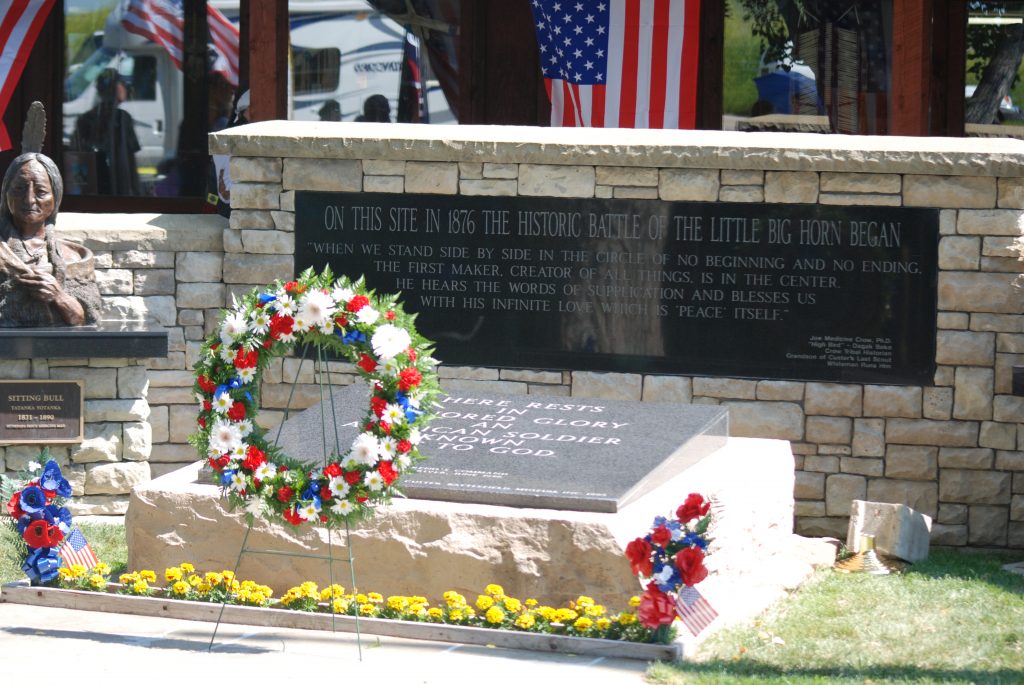 Stop by and pay your respects to the only Tomb of the United States Unknown Soldier outside of Arlington, Virginia and Pearl Harbor, Hawaii. The tomb contains a 7th Cavalry soldier's remains. In 1926, at the 50th commemoration of the Battle of the Little Bighorn, General Godfrey, and Sitting Bull's nephew, White Bull, who started the Battle of the Little Big Horn here at Garryowen, deposited a hatchet along with 19 other artifacts. All are still here today, along with a Peace Monument, featuring bronze sculptures of Sitting Bull and General Custer, signifying peace and reconciliation.
Stand where the Battle of the Little Bighorn began, here at Sitting Bull's camp on the bend of the Little Bighorn River. The Custer Battlefield Museum is located in that very spot on the grassy riverbank just south of the Little Bighorn Battlefield National Monument. From Interstate 90, take Exit 514 and find yourself at the site of one of the largest Indian gatherings ever recorded in North American History.
Visit the museum's website for hours, admission rates and other details.