Arts & Antiques in Southeast Montana
2021-04-15 21:10:15
We love talking about our big, beautiful outdoor spaces in Southeast Montana. Prairies, rivers and badlands that stretch on as far as the eye can see never get old. With all that inspiration at your fingertips – it's no surprise that the region has inspired artists and photographers alike trying to capture just a sliver of the beauty out here.
Stroll through the downtown streets in towns like Billings, Miles City or Glendive and it won't take long to come across murals or sculptures. Walk through the displays at museums across the region to take in art from around the region. And while you're at it, step into the aisles of antique stores to find treasures of the past, each with a story of their own from Southeast Montana.
Outdoor Art
Driving into Miles City, you can't miss one of the town's newest members. Take exit 138 from Interstate 94 in Eastern Montana and you'll be greeted with a horse statue in the middle of one of the newly constructed roundabouts. Designed by Miles City native Erin Thormodsgard, you can see more of her work at Girl Ran Away With A Spoon. She started creating jewelry with a spoon and a few tools, before moving onto bigger creations like the horse statue.
Public art has become a staple in Billings, Montana's largest city. Through the work of organizations like the Downtown Billings Alliance, you'll find sculptures and murals across the downtown area. Visit the website to find a map and create your own walking tour of art locations, including some of the newly-installed "Light Bike Lane" displays – old bicycles with their wheels lit up - in the downtown alleys. Or, take part in ArtWalk Downtown, a staple in Billings since 1994.
It takes local talent to make a city or town an outdoor art gallery, and that's just what's happened in Glendive. Husband and wife creative team Harvey Rattey and Pamela Harr own Bridger Bronze Gallery and have decorated the city with their creations. Follow the paths through Glendive's trails and parks to see a solider playing the trumpet, a little boy catching a fish and much more.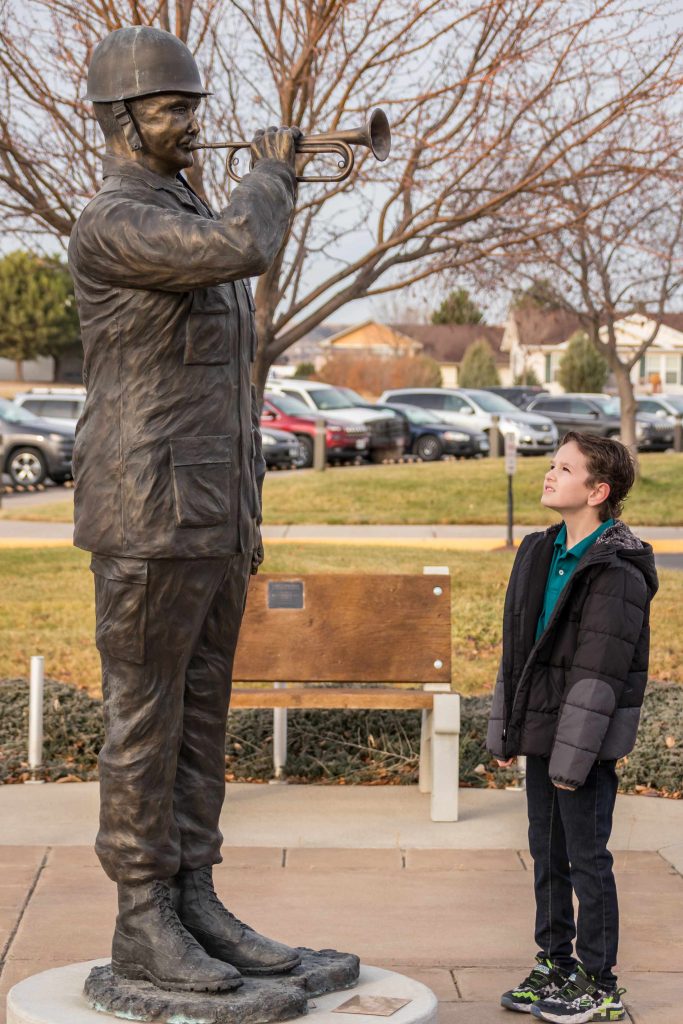 There's even more outdoor art to be discovered across Southeast Montana. Sculptures and murals in Baker, a collection of murals by Bob Watts in Forysth, several pieces at the Pierre Wibaux Museum in Wibaux and much more. Find your own inspiration in the murals, statues and sculptures out here. Make sure to take a picture, and tag us on Facebook, Instagram or Twitter with #southeastmontana and #outheremt.
Indoor Art
From galleries featuring current artists to the museums that house the creations of the past, you won't be bored with all the places you can explore art indoors. Some of our favorites? Terry, Mont. is home to the Prairie County Museum and Evelyn Cameron Gallery and Evelyn Cameron Heritage Center. Cameron came from a wealthy English family, but made her home on the prairies of southeast Montana in the late 1800s and early 1900s. Photography, which was in its infancy, involved carrying 40 pounds of equipment via horseback or on foot. But it was a passion of hers, the Heritage Center is home to more than 900 of her photos. To this day, professional photographers are amazed with Cameron's technical acuity.
In Billings, you'll find the Yellowstone Art Museum – a location you can't miss with its big, glass windows and bright green sign out front. In addition to the sculptures in the main lobby, you'll find rotating exhibits from both youth and adults spread throughout the two stories.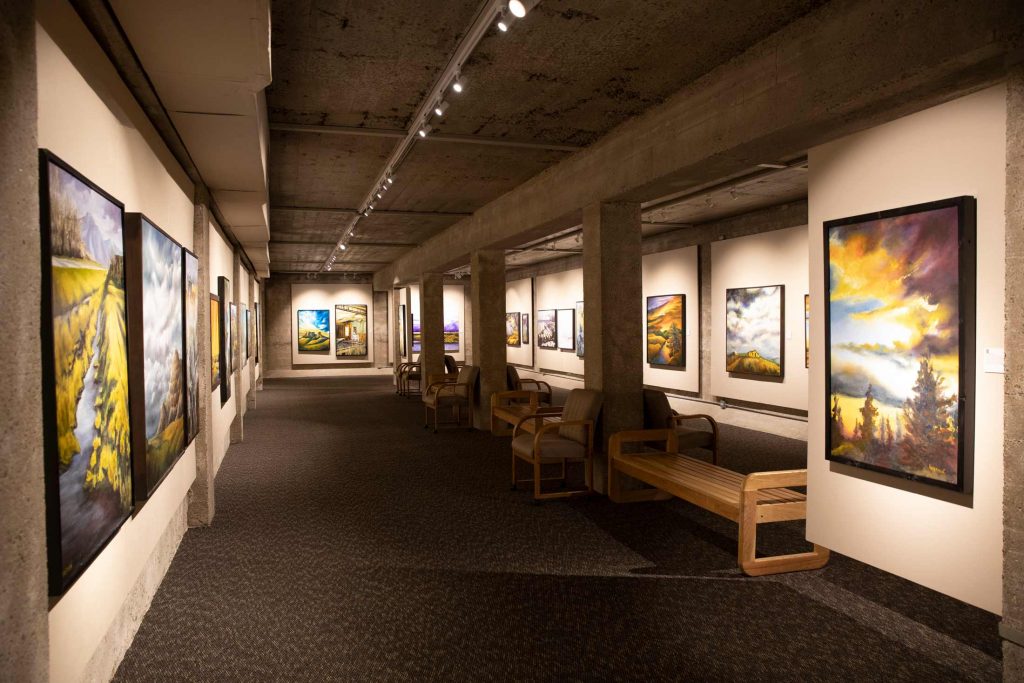 Housed in the old water treatment facility for Miles City, the Waterworks Art Museum has become a bunker of art for the town. Offering both contemporary and historical selections as part of the permanent collection, even more art is shared in rotating exhibits. The permanent collection houses Montana's largest public collection of 1800s vintage LA Huffman photos.
Travel to Hardin and visit the Big Horn County Museum where you'll find collections from several Western artists including J.H. Sharp and Will James. James was originally Canadian, but lived out his dream of being a cowboy in Montana. The museum is home to three of the buildings from James' "Rocking R Ranch", including his studio. Sharp spent time in Big Horn County when he was commissioned by President Theodore Roosevelt to paint portraits of the Native Americans who survived the Battle of the Little Bighorn. View several of his oil paintings on display inside the museum.
Have more time? Check out these galleries and museums:
Antiques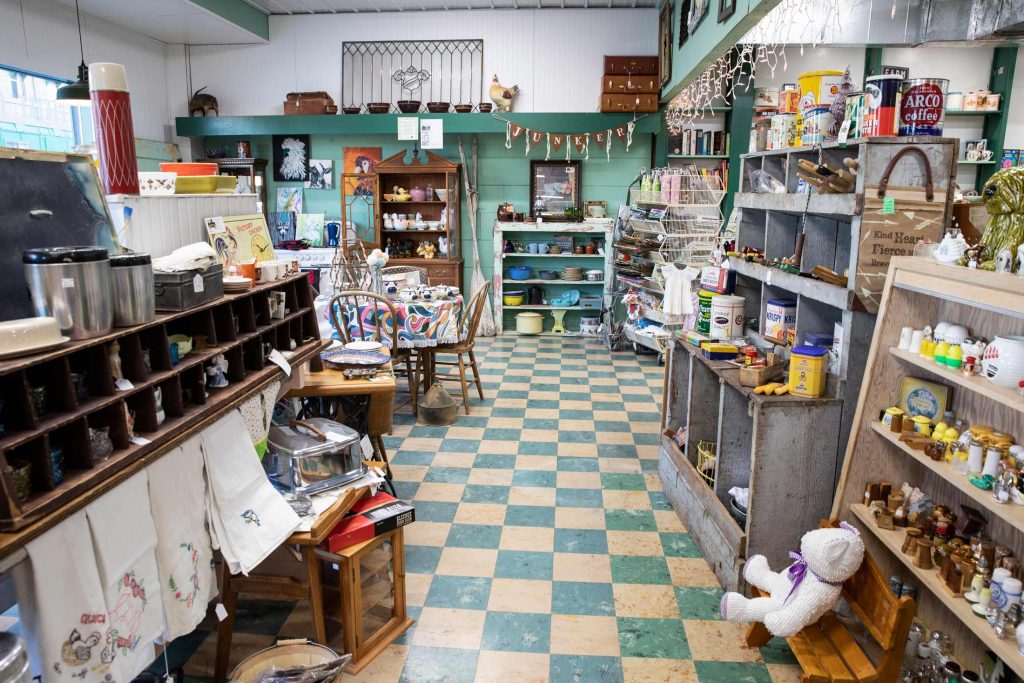 We know that for some, antiquing isn't just a hobby, it's a way of life. And just like the towns in Southeast Montana – unique, fun and sometimes quirky – so are the treasures you'll find walking through antique stores in the region. Billings is home to several - Yesteryears Antique Mall, Oxford Hotel Antiques, Marketplace 3301 – billed as the largest antique store in the state, Liberty & Vine Country Store and Broadwater Mercantile. Make sure to also stop into Wagon Wheel Antiques in Terry (located inside the historic Kempton Hotel, the longest continually operating hotel in the state), Jane's Weathered Antiques in Broadus, a personal collection complete with everything from books to western memorabilia, the Custer Battlefield Trading Post and Café and the Medicine Turtle Trading Post in Crow Agency to complete your treasure hunt through the region.