Calling all Cowboy Fans
2019-05-15 17:15:35
If you are a lover of all things cowboy and Western culture, then add this to your "must see" list. The Range Riders Museum in Miles City, Montana is the perfect destination for those who seek to steep themselves in Western history and cowboy stories. With a variety of buildings, many saved from destruction and move to the site, the word "unique" hardly describes this heritage center-turned-massive-museum. Perhaps "all-encompassing" comes close. No matter how it is described, the Ranger Riders Museum is undoubtably a worth visit.
Opened in 1942, this campus of range and ranching lore originated as a tribute to the men, women and children who gutted out a living on Southeast Montana's arid plains. According to curator, Bunny Miller, the Memorial Hall honors more than 500 families who lived within a 150-mile radius of Miles City and were born before 1915. It's a virtual "who's who" of early ranching in eastern Montana, but yet the average Joe is represented, too. Sheepherders and school teachers, bankers and blacksmiths all contributed to homesteading and ranching life.
The original building was constructed from logs procured near Wisdom, Montana and stands as the entrance into a plethora of displays and additional structures. Local ranches donated funds toward the museum; in exchange that ranch's brand was burned onto a log for permanent display. You can literally walk the streets of Old Milestown of 1877 or examine a log cabin and country school while you image what life was like on the Eastern Montana prairie at the turn of the 20th century.
Military history
The original Fort Keogh Officers Quarters is a favorite for those who study U.S. military, particularly the 7th Cavalry. Named after Col. Myles Keogh, who was killed at the Battle of Little Bighorn, the fort was strategically set at the confluence of the Tongue and Yellowstone Rivers, just outside of today's Miles City. In 1907, all infantry troops were removed and the fort became a remount station supplying thousands of horses for World War I.
Today's visitors can walk through the Officers' Quarters, which was re-located to the Ranger Riders Museum site for preservation. For a more comprehensive visual, see the entire fort in a diorama displayed at the museum.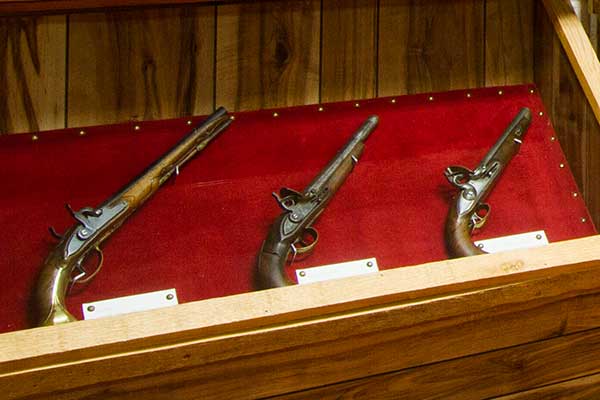 Lifetime collection
Miller points to the Bert Clark Gun Exhibit as a popular venue among visitors. Clark was local mechanic who started collecting weapons during World War I. When locals could not afford to pay for services, he sometimes bartered and thus his collection grew. When it was donated to the Range Riders Museum, the organization fundraised to build a separate, secure building specifically for this collection. Weapons aficionados will marvel at the Roper 16-gauge four-shot revolving cylinder shotgun, patented in 1866 by Sylvester Roper, and the 1838 Potsdam French model cavalry pistols, which was convert from flintlock to percussion firearm but retains the original ramrod.
We've even spied a pair of Italian Renaissance rapiers.
Juxtapositions like this are part of what makes the Ranger Riders Museum truly a unique experience. Miller or other local volunteers are always on-hand to enhance your experience by providing background information. Plan to spend an hour – or days – learning the Range Riders' stories.