An Evening Among the Stars
2023-10-27 18:18:25
Embarking on a celestial voyage through Eastern Montana promises to be an unforgettable experience out here. Try these two special stops along the way to make your stargazing adventures even more memorable.
For a more relaxed outing we highly recommend the Horsethief Recreation Area nestled just outside of the charming town of Roundup. Here, you'll be immersed in an authentic Southeast Montana escapade, filled with delectable burgers, celestial marvels and a restful night's slumber. The pathways leading to the Horsethief Recreation Area, though rugged, are well maintained, a characteristic often found in Montana's pristine yet rugged outdoor sanctuaries. It is amidst such unspoiled terrain that stargazing reaches its peak, for the further you venture from the intrusive glow of artificial lights, the more brilliantly the untamed constellations will shine.
For an utterly immersive and secluded adventure, we recommend the Diamond Butte Lookout near Ashland, as it offers a unique and rugged experience for nature enthusiasts. The 30-foot masonry tower perched at an altitude of 4,245 feet provides breathtaking panoramic views of the nearby Wolf Mountains. Being in the Custer Gallatin National Forest, it is sure to offer a serene and remote atmosphere for those seeking a wilderness escape. The opportunity to witness sunrises, sunsets and starry nights from this vantage point is truly spectacular.
When To Go
The optimal period for indulging in the spectacle of the night sky is during the late autumn and early winter months. As the days grow shorter, the veil of night descends earlier, providing even the youngest budding astronomers an opportunity to partake in starry night observation before bedtime. Prior to embarking on your journey, it is imperative to consult the weather forecast, for an impeccably clear sky is the quintessential canvas for this cosmic display.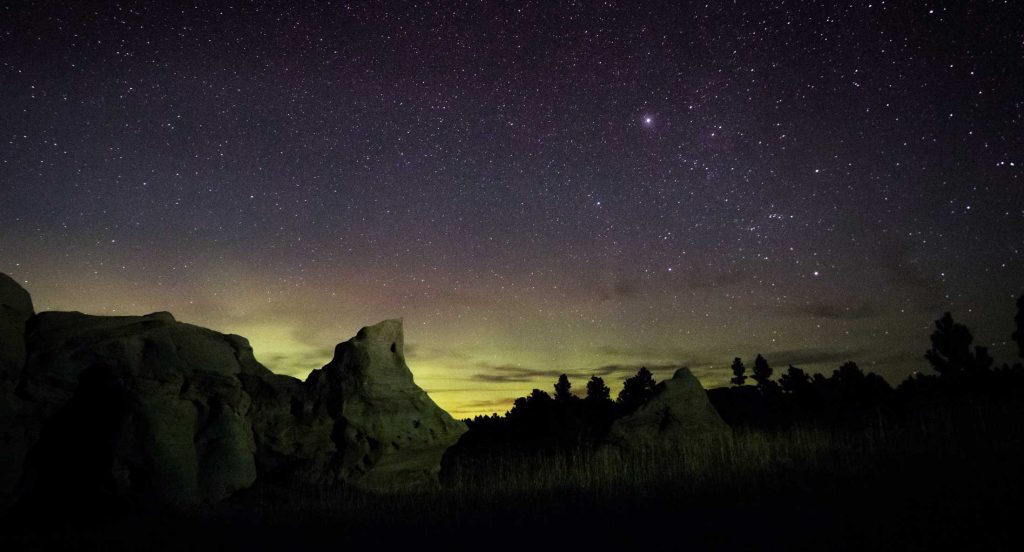 What Will I See
Depending on the season, you may find yourself in the privileged position of witnessing a captivating astrological event, such as the northern lights. The Montana's Trail To The Stars website offers a treasure trove of invaluable insights, along with a calendar detailing full moons and meteor showers, ensuring you make the most of your stargazing adventure.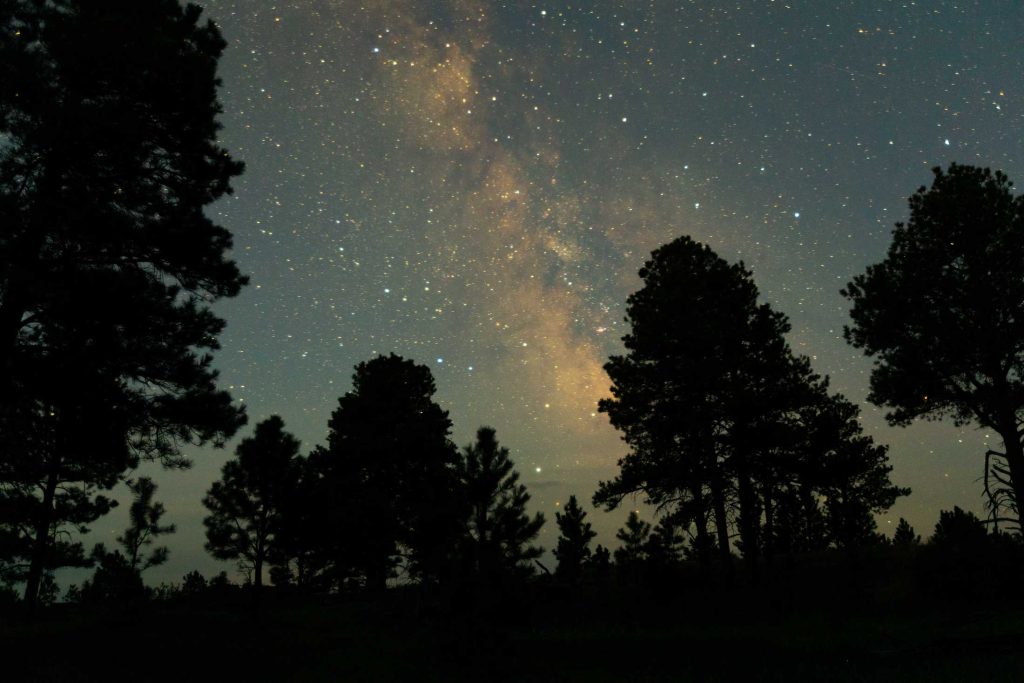 What To Take
It is wise to pack warm clothing that you can layer, as the nights can embrace a crisp chill. While binoculars can enhance the experience, they are not a prerequisite. We also recommend bringing your imagination and curiosity, for there are timeless stories built around nighttime skies.
Where To Eat
Before heading to Horsethief Recreation Area, make a pit stop at The Grand Bar in downtown Roundup, where you can savor a delectable Diego Burger. By using the new Southeast Montana Burger Trail, you'll accumulate points towards exciting prizes. Before you venture out for stargazing, consider grabbing a dessert to-go. Sharing a sweet indulgence beneath the canvas of stars will undoubtedly serve as a cherished after-dark treat, adding an extra touch of magic to your celestial adventure.
As you make your way to The Diamond Butte Lookout, do not miss a pit stop at the Ashland Merc. Here, you can stock up on a variety of grocery items to craft the perfect rustic evening picnic.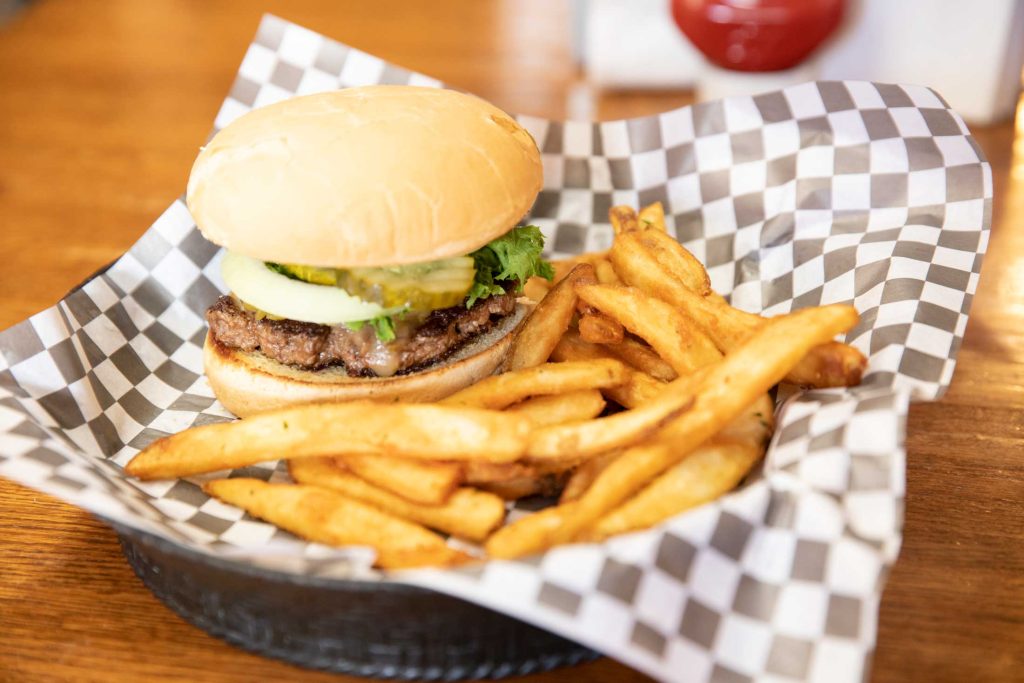 Where To Stay
For a comfortable and budget-friendly lodging option in Roundup, look no further than the Big Sky Motel or Autumn's Inn. These establishments provide a cozy haven where you can rest and dream about your stargazing journey. What's more, both accommodations extend a warm welcome to your furry companions, ensuring that every member of the family can partake in this unforgettable starlit experience.
The Diamond Butte Lookout near Ashland certainly offers a rugged, back-to-nature experience for stargazing enthusiasts. Furnished with a table, chairs and three beds make sure to bring the appropriate gear as there is no electricity, water or trash removal. The site includes a vault toilet. Bring your own bedding, coolers, lanterns and water so you disconnect from the world Overall, this destination provides a unique opportunity to disconnect from modern amenities and immerse yourself in the natural beauty and tranquility of the Montana wilderness. It's perfect for those seeking a more rustic and adventurous stargazing experience. Reservations are required and the lookout is only available September 15-May 15, as it is an active fire watch tower during the summer months.