We dare you to call this side of Montana flat!
From the rustic and remote Calypso Trail in the Terry Badlands to urban trails in Billings, Eastern Montana offers a plethora of hiking and biking options for the true adventurer. Discover mountain biking and hiking across the prairies, buttes and badlands of Eastern Montana—a challenge unlike any other, where you will be relatively one with nature.
No matter if you are out for a short jaunt, or in for a long haul, we encourage you to get up-close-and-personal with Southeast Montana. Then stop in the closest small town to share your experience with the locals—you may even learn a few of their secret places.
Note: As of July 1, 2023, a conservation license is required for everyone age 12 and older to access most state lands, including wildlife management areas, fishing access sites and wildlife habitat protection areas, and all types of recreation—launching watercraft, hiking, biking, wildlife viewing, etc. State parks are excluded from this requirement.
Learn More Here
Our Top 6
Makoshika State Park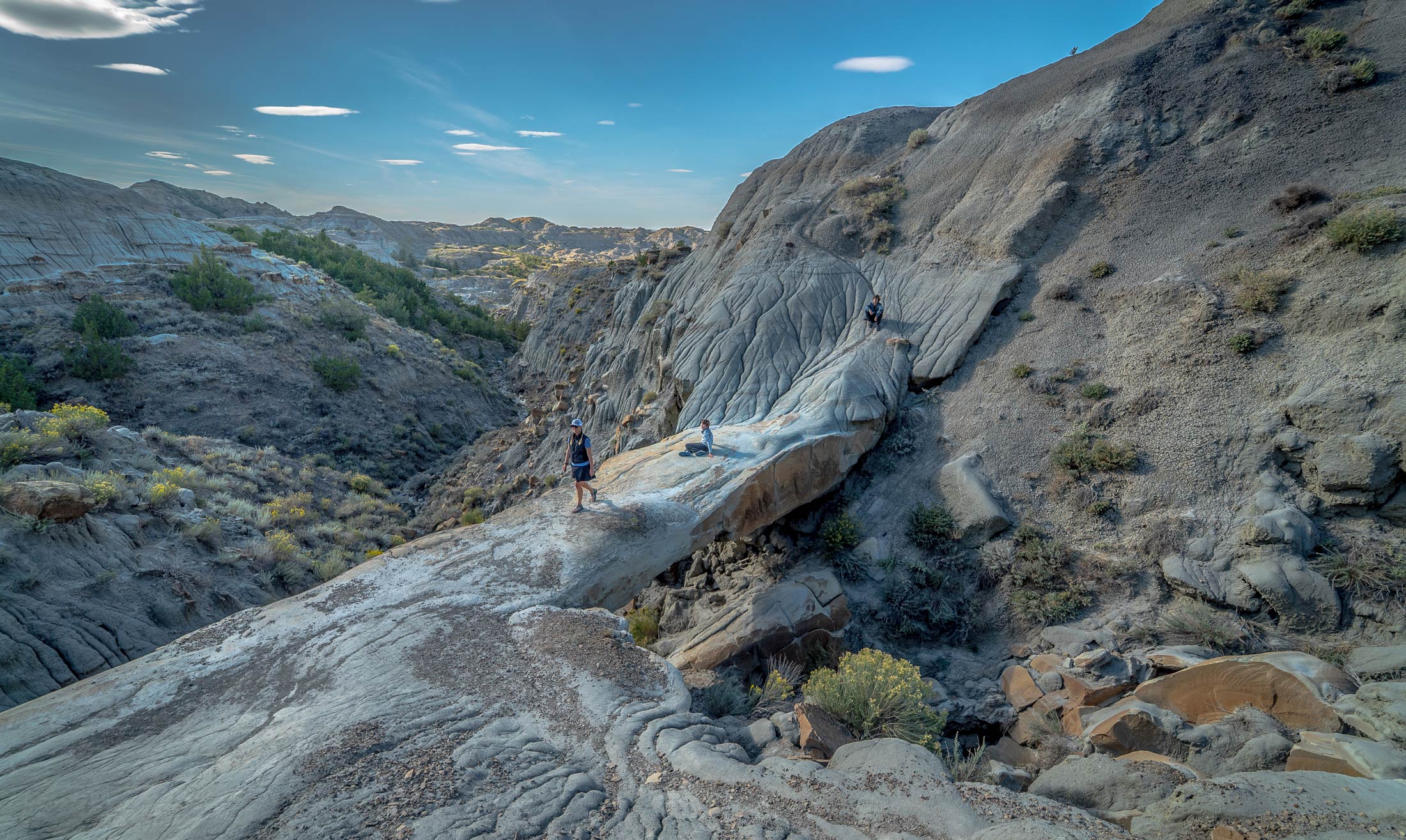 Photo by Traveling Mel
Out here, in Montana's largest state park, we offer a different kind of mountain—distinctive, evolving badlands that change colors as the sun rises and sets across the landscape. Makoshika (pronounced Ma-ko'-shik-ka) means "bad earth." This terrain will subtly challenge even the most seasoned cyclist or hiker.
For biking we recommend the Vista Trail (about 6 miles out/back) or the shorter, Paramount Trail for beginners. To stretch your endurance, bike the entire Makoshika Park Road, including the switchbacks. See this map or look for designated signs at trail heads.
For hiking, don't miss Cap Rock Trail, which crosses a natural bridge—yes, really—or traverse the Gunner's Ridge—Hungry Joe Trails for views and longer treks with elevation climbs. For those who need something a bit less intense, will enjoy the Diane Gabriel Trail.
Insider Tip: Stop at the Visitor Information Center for a backcountry hiking and camping permit, along with a trail-conditions report from the friendly park staff.
Terry Badlands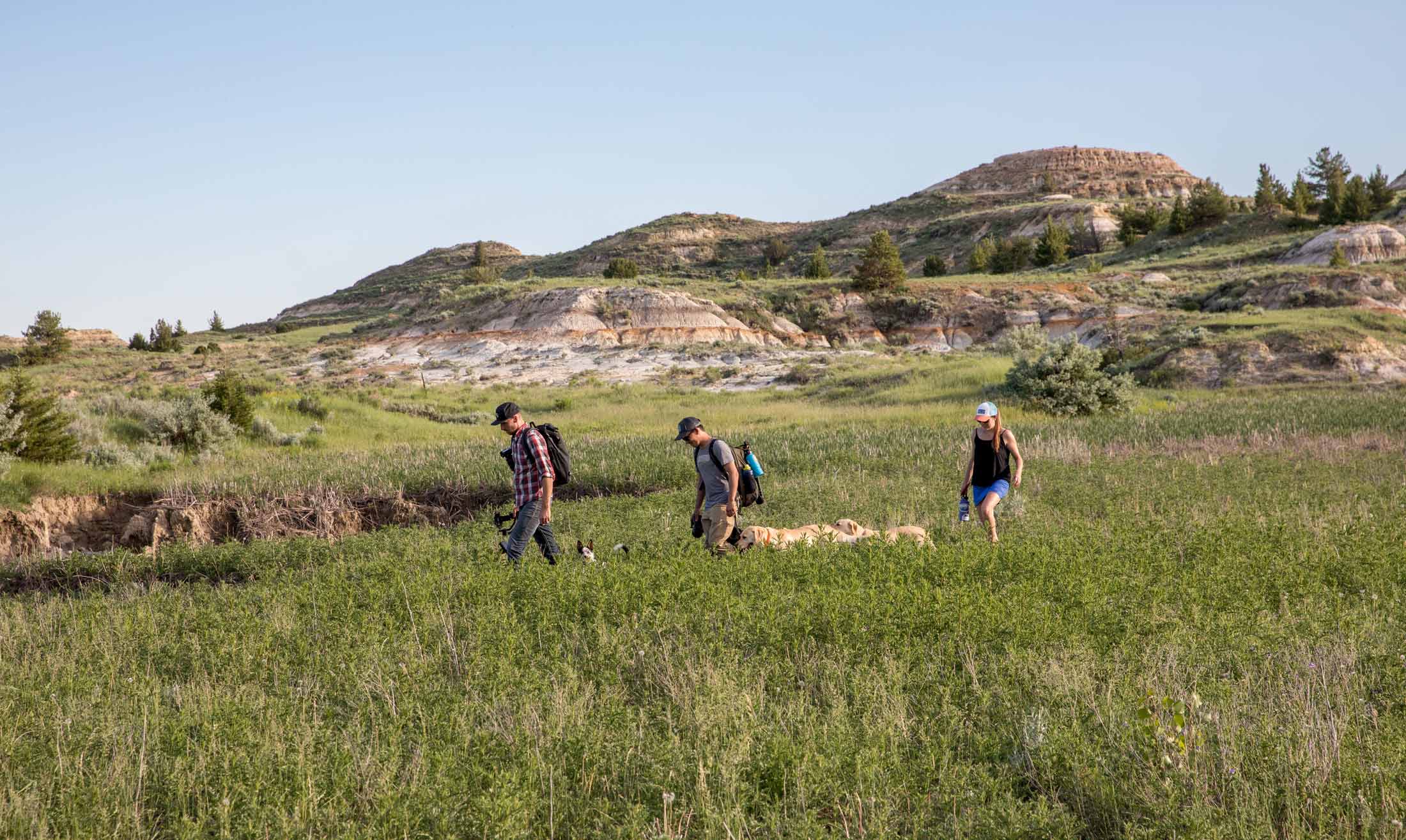 Photo by Andy Austin
The immense Terry Badlands Wilderness Study Area (WSA), which is managed by the BLM (Bureau of Land Management), offers biking along designated roads only and hiking throughout, including the popular Natural Bridges Trail.
A truly rustic experience, we recommend early-day hikes, snake gaiters, plenty of water and an adventurous spirit. You will be rewarded with amazing micro-ecosystems, spires, buttes, tabletops, hoodoos and—you guessed it—natural bridges.
Chat it up with local merchants to hear stories about bootleggers using the Calypso Trail during Prohibition and their daring nocturnal crossing of the Milwaukee Rail bridge, hoping to avoid an encounter with the train.
Insider Tip: High-clearance, 4WD vehicles are a must and know that roads quickly become impassable with precipitation. Wheeled traffic, which includes bikes, is restricted to two-track roads. The Calypso Trail is a minimum maintenance road.
Billings Area
Photo by Nathan Satran
Montana's largest city (pop: 110,000), Billings offers more than 47 miles of walking and biking trails, including paved, mixed-use trails and more rustic gravel-dirt trails. No matter which one you pick, we guarantee views and hues—of natural sandstone bluffs estimated to be 70 million years old, of the city's skyline backdropped with the Beartooth and Pryor mountains and of the legendary Yellowstone River that winds its way around this bustling center of commerce.
Insider Tip: Download the Billings Heritage Trail app for instant access. Hard-core adventurists should look for Phipps or Zimmerman Parks.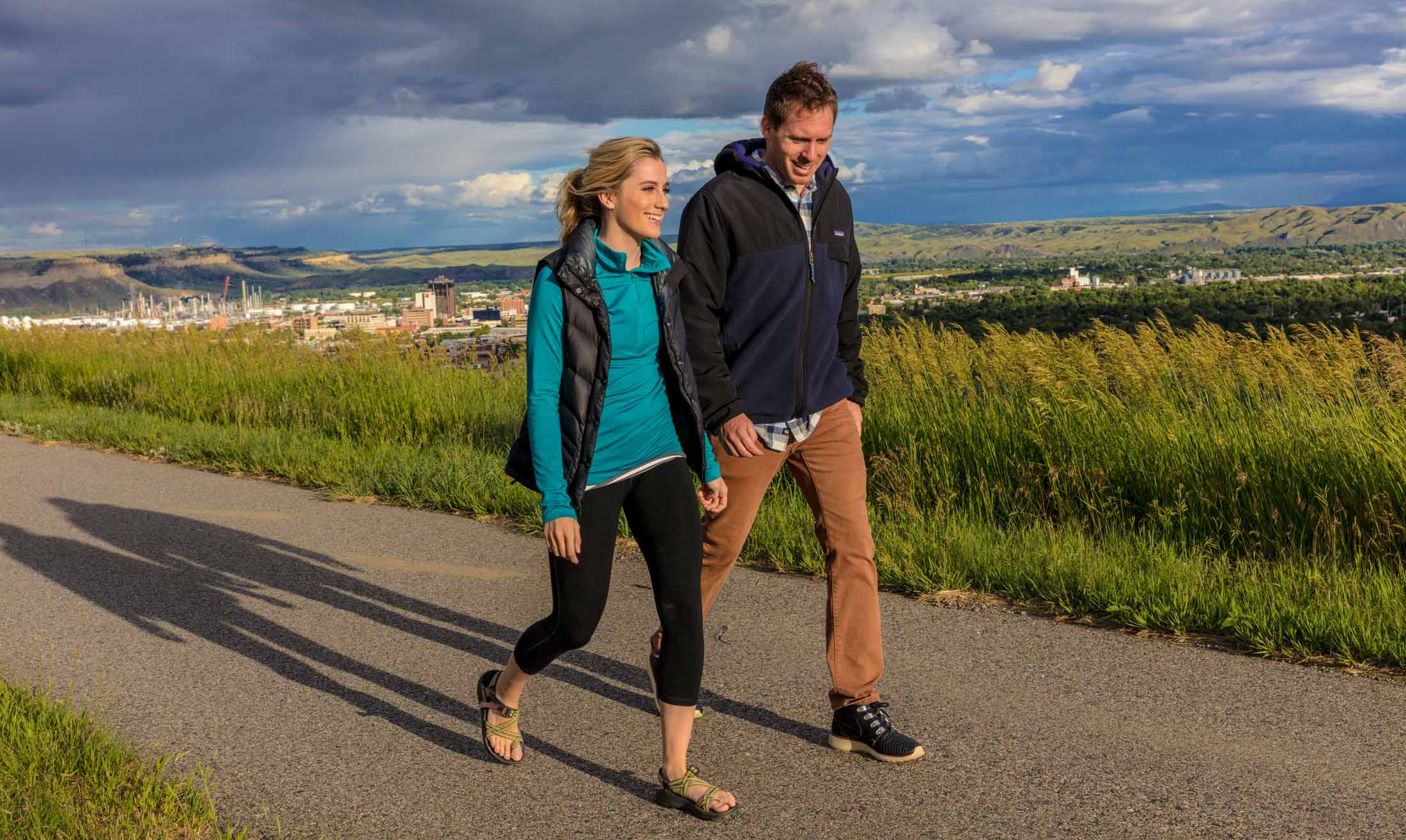 Photo credit Chuck Haney/Visit Montana
If you hit only one trail in Billings, you must stop at Swords Park, set atop the Billings "Rims." On a clear day you can see five mountain ranges—the Bighorn, Pryor, Beartooth-Absarooka, Crazy and Bull—along with the South Hills and Yellowstone River. Walk or bike from just west of N. 27th Street along the top of the Rims all the way to Boothill on paved trails. The truly ambitious can expand their trek with connecting trails.
Four Dances Special Recreation Area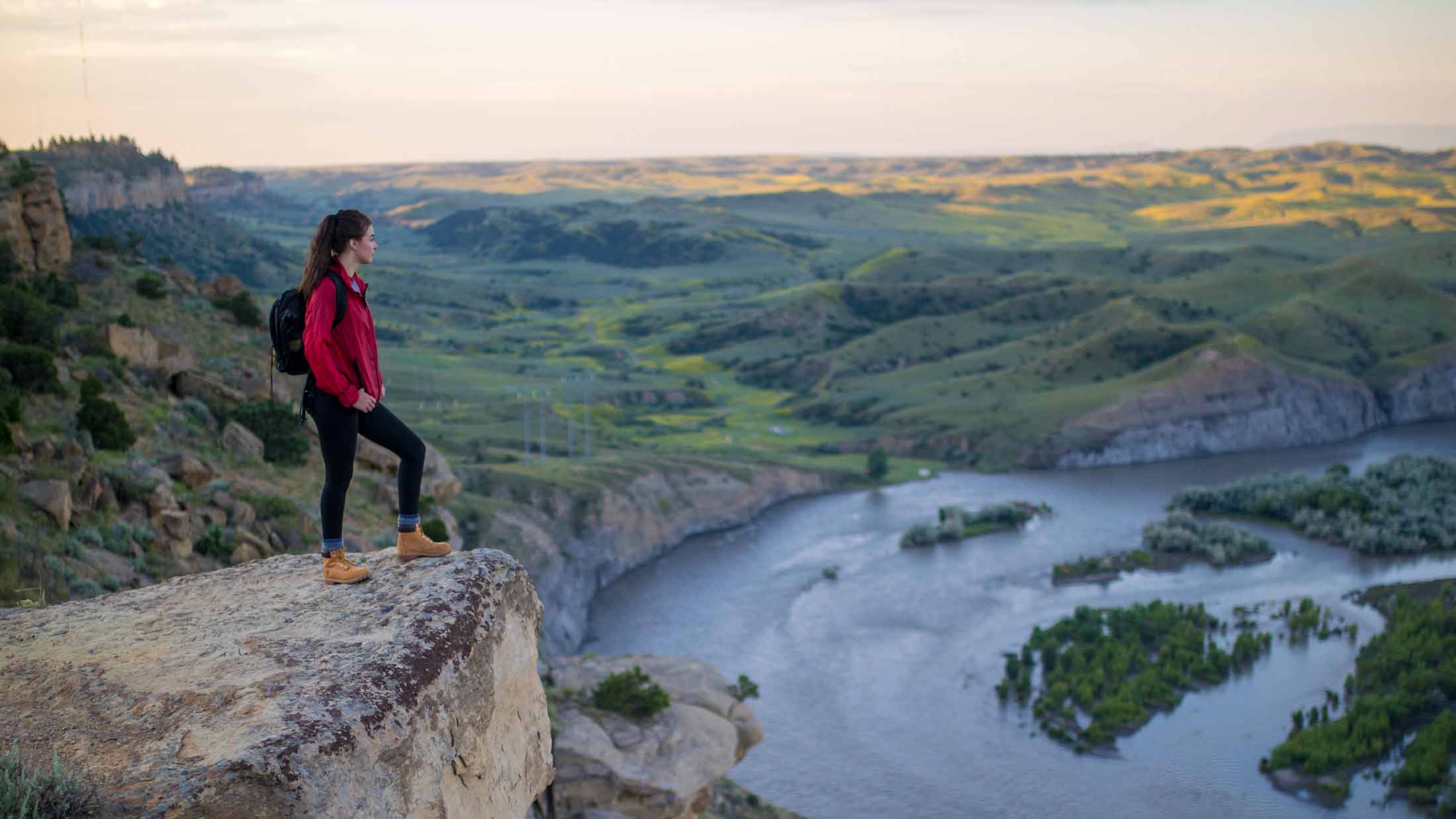 Photo by Andy Austin
For a stunning view, 500 feet above the Yellowstone River Valley, head to Four Dances . This is a hiking only—no pets—area managed by the Bureau of Land Management (BLM) which encompasses 1.5 mile loop with some interpretive signage and stunning views. We highly recommend sunrises or sunsets at Four Dances—you can't go wrong.
Insider Tip: During summer months, BLM does support a site host, who can give directions and answer questions.
Acton Recreation Area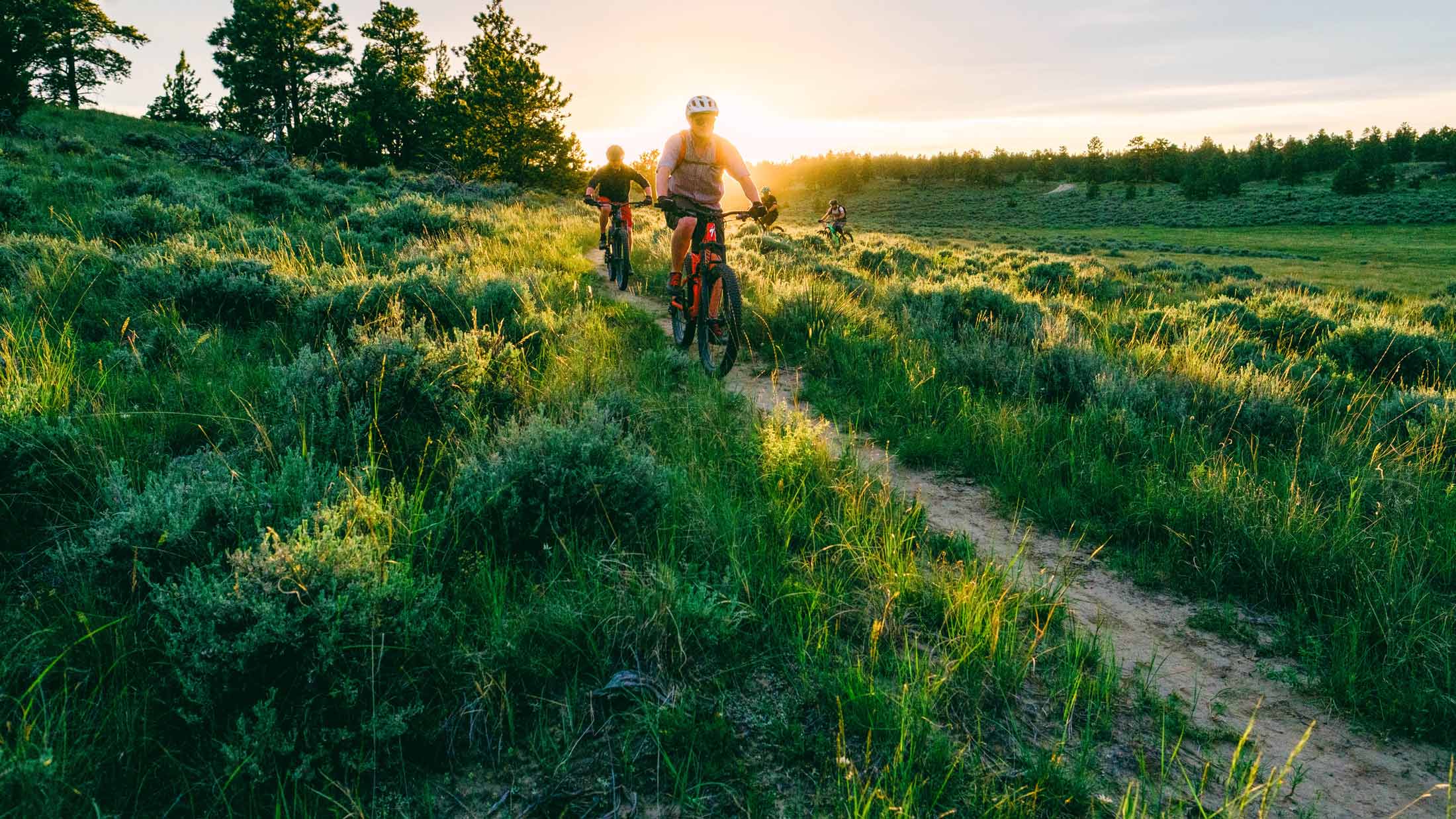 Photo by Aaron Theisen
Located just 25 minutes northwest of Billings, the Acton Recreation Area was carved out of naturally-challenging landscapes and sandstone outcroppings. Local mountain bikers support this area, which is managed by the Bureau of Land Management. With trail names like Owl-Be-Back, Rollercoaster and Fire Road, this area will pique your curiosity and thrill your inner child.
Insider Tip: Acton Rec Area is open year-round, provided roads are clear, and supports camping, hiking, horseback riding, mountain biking and hunting (in season) with vault toilets and interpretive kiosk.
Strawberry Hill Special
Recreation Area
If you like the unstructured life, this is your spot. Located 5.5 miles south of Miles City, Strawberry Hill offers primitive trails for hiking and biking. You will experience challenging conditions and forever views of the Yellowstone River Valley. Unique rock formations mingle amongst grass, sage and Ponderosa pine. This is a "pack in-pack out" site with no facilities. Rustic Montana at its finest.
Short jaunts
Is a leisurely stroll or pedal more your speed? Try these locations where you can stop and smell the wildflowers.
Medicine Rocks State Park
Located on the eastern edge of Montana, this little park is truly a special place. At only .8 miles, the Dalton Trail is the longest but trust us, you will want to stop along the way to marvel at the other-worldly stone formations.
RiverWalk Heritage Trail
This public-private trail guides walkers and bikers along the Musselshell River's riparian zone, under towering cottonwoods and among tall grasses. The "Large Loop" is just over a mile and is relatively flat, making RiverWalk ideal for all ages.
Pictograph Cave State Park
Located adjacent to Billings, Pictograph Cave State Park's short (.4 mile) loop is perfect for stretching little legs. Be sure to stop in the Visitor Center for a closer look at artifacts uncovered from one of the three caves.
Long hauls/Big Opportunities
Bighorn Canyon National Recreation Area—Fort Smith/North Unit
Road bikers will find this out-and-back—Ok-a-Beh Marina Road—a serious challenge. If the climb doesn't steal your breath, the view from the top surely will.
Note: The road is narrow with no shoulder and often traveled by recreational vehicles pulling boats. NO off-road travel is allowed—the road traverses private property on all sides. The road is open seasonally and includes a cattle grate.
Little Bighorn Battlefield National Monument
While most visitors consider this park for its historical significance—which is hugely impactful—we think biking from the Visitor's Center and Last Stand Hill to the Reno-Benteen Memorial provides an alternative way to think about the battle fought on foot and on horseback nearly 150 years ago. This out-and-back trip is nearly 10 miles and includes some elevation gain.
Note: Large recreational vehicles traverse this narrow road, which has no shoulders. The property between the cattle grates is private and therefore NO off-road riding is allowed. A NPS pass is required for entrance.